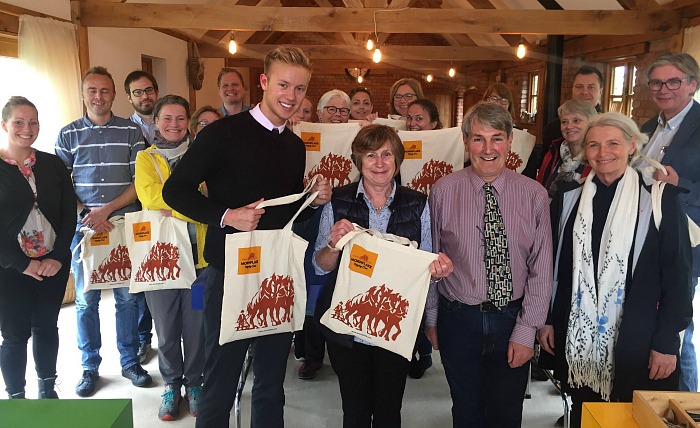 Breakfast giant Mornflake teamed up with farm owners in welcoming Danish teachers to a healthy eating event near Nantwich.
The visitors were in Cheshire as part of the Food For Life initiative.
They toured Whittakers Green Farm in Bridgemere, one of the British farms contracted to grow oats for Mornflake to mill into porridge, granola and muesli.
The campaign, promoted by the Soil Association, aims to connect people with where their food comes from while championing the importance of well-sourced ingredients.
Mornflake marketing manager Richard Jones said: "We were delighted to be invited to take part in this initiative with Liz and Hartley Rushton as part of the Food For Life initiative.
"Food education in schools is crucial to encouraging our younger generation to eat healthily now and in the future."
The visitors were interested to hear about Mornflake's historic roots in Cheshire, dating back to 1675, and its methods of turning raw crop into breakfast products.
Farm owners Hartley and Liz Rushton gave a presentation on the ups and downs of growing a crop so heavily reliant on the weather.
Richard added: "Growing oats is a labour of love and Mornflake has a strong 'Buy British' policy which helps support the livelihood of hundreds of farmers up and down the country.
"We're passionate about oats as part of a healthy lifestyle and it was good to send this message back to Denmark."
Liz Rushton said: "We were thrilled to host a visit for Danish teachers who are looking to promote healthy school food.
"Over the years we have introduced many children from inner cities to farm life and given them an understanding of where their food comes from.
"The Danish guests want to use this as a model for teaching their schoolchildren and were especially keen to see how the oats are grown."
(Pic: Mornflake marketing assistant Joe Clarke with farm owners Hartley and Liz Rushton and the Danish teachers)