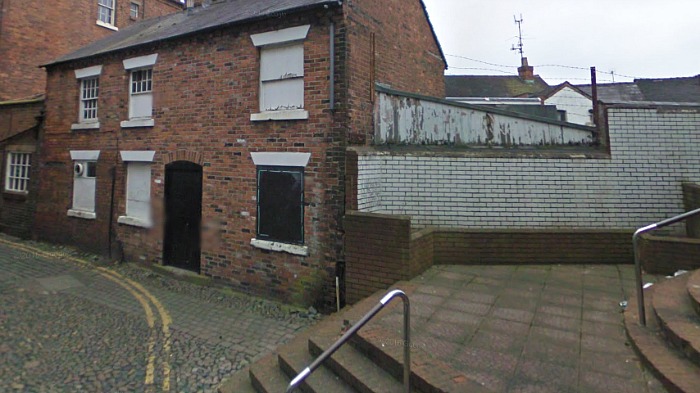 Nantwich town centre residents are fighting plans for a Craft Ale Bar on Castle Street, claiming the area is already a magnet for drug users and trouble makers.
A licensing application to open premises near the The Studio has been submitted to Cheshire East Council by Peter Terry.
He wants to open a bar 10am to 10.30pm seven days a week, serving alcohol between 10am and 10pm.
But Nantwich Town Council heard how residents living nearby claim their lives are already made a misery.
And they say one of Nantwich's oldest streets is "a disgrace" to the appearance of the town.
In a statement, residents said: "Youths hang around on the red steps and generally cause a nuisance and disturbance.
"The area itself is poorly kept and quite frankly is a disgrace to the town appearance.
"It looks like a dirty, unsafe down-town back alley which is why it attracts such undesirables.
"Local residents have been subjected to abuse from the youths who hang around on the red steps.
"There is also a drug issue there. Staff have to clean up the steps most mornings as they find little empty packets of what looks like white powder littering the area.
"Nantwich clearly has a drug issue and a youth drinking issue."
Cllr Peter Groves said the town council should write in the strongest terms to Cheshire East Council to object to the plans.
He told last night's meeting: "I've met the residents and been out there.
"There is a lot of grave disquiet at the prospect of this new place being opened.
"They are plagued with excess noise with people drinking in the streets. They are concerned about the apparent drug taking in that area, and youths hanging around the red steps, rubbish being thrown in gardens.
"Is there a need for another licensed premises to actually open?"
Cllr Arthur Moran added: "I think residents around there have enough to put up with as it is."
PC Marc Harley said: "We have two issues. One with the youths on the steps, and the other is the potential bar opening, which could create it's own problems.
"I've moved youths on who have been loitering in that area before, but it seems to be a magnet.
"If the Castle Street area was enhanced and developed, it could work in displacing youths so they would not hang around there, and just make the area look better."
A decision on the Craft Ale Bar licensing application is due to be made by Cheshire East Council after a 28-day consultation ended last week.
(pic courtesy of Google Streetview)