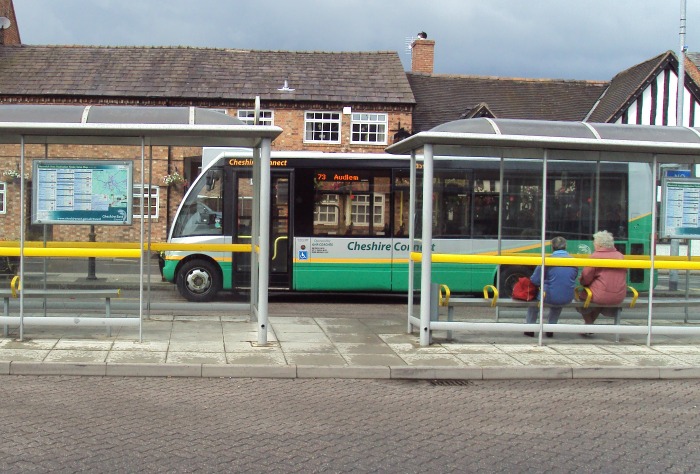 Nantwich bus users are being urged to air their views as Cheshire East plans a radical overhaul of its supported routes which could impact on hundreds of people.
The 10-week borough-wide consultation into proposed changes to subsidised bus services, including the 'Little Bus' flexible transport service, comes to an end on July 26.
Cheshire East Council says proposals would save more than £1.5 million from the council's budget.
But for many in Nantwich, the plans could see a number of local services axed or reduced.
The direct service between Nantwich and Leighton Hospital would be axed at weekends, and would not run later than 4.53pm from Leighton and 5.25pm to Leighton.
Other routes around Nantwich are being cut back to within Cheshire East boundary, and the number of D&G buses in operation is to be reduced to a single bus that will run the routes 51, 52, 53 and 73 which is being cut back to Wrenbury and no longer serve Whitchurch.
As a result, the 51 will be only run every two hours instead of every hour between 10am and 4pm.
The 73 service could also being cut back to Audlem, instead of Whitchurch, which will now only be accessible by train from Cheshire East.
Early evening services are also being withdrawn with the last one out from Nantwich at 5.05pm and returning from Audlem at 5.31pm.
This proposal could mean only two buses operating all the local Nantwich services.
The timing of the morning school service (71) will run five minutes later which could impact Malbank School pupils.
Nantwich routes would also have new numbers, prefixed by 'G'.
The 71 school service becomes G1, the 72 to Wrenbury becomes the G2, the 73 to Audlem only becomes G3, the 51 will be G4, the 52 G5, and the 53 will be G6.
Route 39, operated by Mikro Buses, which runs along Elwood Way and London Road in Stapeley and as far as the Boar's Head and then Wybunbury and Shavington to Crewe, would become Route B but with no timetable changes.
Dial a Ride is to be renamed 'Little Bus' but with less buses available and a reduction in availability. The requirement for users to 'join' the service and to book 24 hours ahead still remains.
Other authorities offer subsidised taxi travel, but Cheshire East does not.
The route serving Crewe Railway station from Nantwich as well as Earle Street in Crewe, for Grand Junction Retail Park, is to be halved to once an hour.
The 1B service would be withdrawn, leaving only the 1A service which does not serve Eagle Bridge Health Centre on Dunwoody Way, where some of Leighton Hospital's outpatient services are now based.
Cheshire East the proposed changes, in particular to evenings and Sunday, are to some of the least used of their services.
Cllr David Brown, Cheshire East Council cabinet member for highways and infrastructure, said: "Changing the way services operate is always a very complex issue.
"Naturally, the council wants to weigh up the needs of all our service users for such an important consultation, so we are determined to take every possible opportunity to hear what the public has to say.
"We will still be investing more than £2m in subsidised bus services."
You can register your views before July 26 by visiting http://www.cheshireeast.gov.uk/council_and_democracy/council_information/consultations/cheshire-east-bus-service-review.aspx