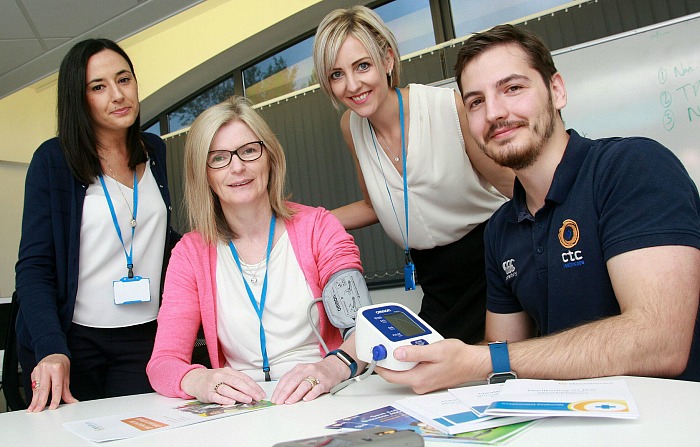 A Nantwich healthcare firm has teamed up with a Crewe Business Park company to offer health and wellbeing services to its growing workforce.
Physiotherapists at ctchealthcare carried out health checks on employees at Trak Global Group, which employs more than 230 people at Global House on Westmere Drive.
They carried out blood pressure, body fat and cholesterol checks and gave advice on active and healthy lifestyles.
Claire Birks, HR Director at Trak Global Group, said: "We have recently launched a number of new benefits including a Cycle to Work scheme and a Cash health plan.
"As part of the health theme we invited ctchealthcare to come along and kick start our Health and Wellbeing plan by providing a number of employees with mini health MOTs – quick tests carried out to measure cholesterol levels, blood sugar levels, BMI.
"They also enjoyed soothing neck massages.
"Over the next year we are committed to promoting a more healthy lifestyle, helping our employees to get motivated and educated around different lifestyles."
Operating in five countries, Trak Global Group is the world's seventh largest telematics company, gathering and interpreting data from 'black box' connected devices to help organisations manage driver and vehicle risk.
The company, which also has offices in Manchester, has doubled its workforce since setting up on Crewe Business Park two years ago.
Helen Lowe, business development manager at ctchealthcare, said: "We work with many large companies to ensure the physical and mental wellbeing of staff.
"Companies in return benefit from greater productivity and lower sickness absence rates.
"It is great to partner with a neighbour on Crewe Business Park in staging health and wellbeing days and see the caring approach it has to employees.
"Staff at Trak Global Group were cheery, motivated and enthusiastic about their roles.
"We would love to speak to other local employers about investing in this way and the long term gains."
Ctchealthcare, which runs clinics in Crewe and Nantwich, works in large corporate settings as part of its Day 1 programme focused on healthier, happier and more productive workforces.
Over the years it has been key sponsor of the South Cheshire Chamber Business Awards, presenting a Health and Wellbeing Award to companies which take good care of employees.
For more information on corporate health and wellbeing days call Helen Lowe on 01270 361363 or visit www.ctchealthcare.co.uk
(Pic: ctchealthcare physio Georgios Christopoulos with Trak Global HR director Claire Birks and colleagues Caroline Meachin and Beckie Stevenson)