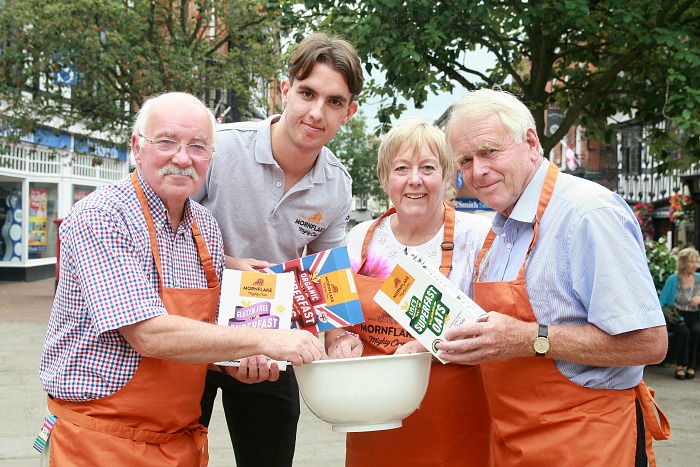 Breakfast food giant Mornflake will serve up a tasty company re-brand alongside gastronomic delights at the Nantwich Food Festival.
The South Cheshire employer will welcome thousands to its Food Hall on the Bowling Green car-park as it marks 10 years as a major supporter of the annual event.
Its marquee will be filled with delicacies from across the world as the hub of festival activities.
And it will also see the company unveil its new Mornflake 'Mighty Oats' branding – featuring iconic three Shire horses, Bonny, Flossie and
Metal, pulling a binder to cut the oats.
The re-brand, now being rolled out across its products, underlines the ethos of the company dating back to 1675 and its commitment to farming.
Mornflake marketing manager Richard Jones said: "Mornflake is celebrating its 10th anniversary milestone as a sponsor and exhibitor.
"Every year we help turn Nantwich into a foodie heaven while championing that most versatile and healthy of products – oats!
"The festival also gives us the chance to meet local people who have enjoyed our products for decades.
"This year it also presents an excellent opportunity to introduce them to our newly-packaged products and let them know of our exciting plans to rebrand across all our range and our famous orange trucks.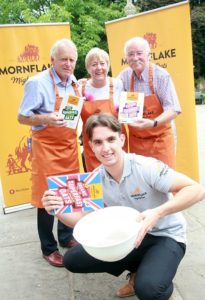 "We are proud of our Cheshire roots and it's great to share our fabulous new look with our local community as well as foodies from across the UK visiting the festival."
The company's vintage van, Oatis, will be sited on the food court serving delicious organic porridges and flapjacks made with Mornflake Organic Oats.
Festival director Christine Farrell said: "Mornflake plays an important role in the Nantwich Food Festival.
"It is an example of how a successful local family-run food business can help to promote our volunteer-led event with generous sponsorship.
"The Mornflake stand, with its eye-catching colourful displays, is always a draw to the thousands of visitors throughout the weekend.
"The staff are polite, helpful and I can never pass the stand without buying the muesli breakfast cereals.
"The company's support of the festival over many years has without doubt contributed to its growth and success.
"Costs of staging the event rise every year but Mornflake has remained loyal.
"It's a main sponsor and a great friend of this important local event which does so much to showcase Nantwich as a destination town.
"The fact we have Mornflake onboard as a big-name sponsor also helps us attract further support from the local business community and for that we are very grateful."
More details on the full three-day Food Festival programme is available here.
For more information on Mornflake products visit www.mornflake.com
(Pictured: Mornflake marketing assistant Lewis Jones with Nantwich Food Festival directors John Coulter, Christine Farrell and Roger Mills)