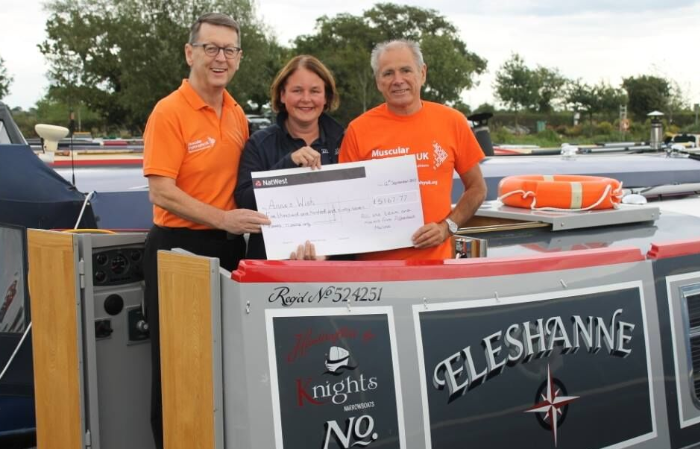 Staff and visitors at Church Minshull Aqueduct Marina have raised more than £17,000 for local causes in six years.
And moorers at the marina have helped the venue raise £5,167.77 for their chosen charity of 2017 –  Anne's Wish Family Fund.
The six-year mammoth effort includes £592.06 for Sea Shepherd UK (2012), £1,000 for Helsby Golf Club (2013), £1,359.08 for Hearing Dogs for the Deaf (2014), £2015.73 for Crohn's and Colitis UK (2015), £4,646.50 for the Joshua Tree (2016) and £5167.77 for Anne's Wish, Muscular Dystrophy (2017).
The money raised this year will go to support the work of Muscular Dystrophy UK.
It has been raised with activities such as a Christmas Fair, collection tubs at reception and in the café, bingo evenings, jumble sales, donations from the marina's board and the marquee event of the year, the annual Boaters Bash and Family Fun Open Day in July.
Staff also took part in the recent Tough Mudder obstacle race held at Cholmondeley Castle on September 9.
Anne's Wish is a Family Fund with Muscular Dystrophy UK set up by Rob Eddon and family to raise funds in memory of Anne Eddon, who died suddenly in February 2016.
Money raised will help fund research into inclusion body myositis (IBM), a condition Anne lived with.
Andrea Parton, director at Aqueduct Marina, said: "It is always good to support our moorers and Rob Eddon's charity Anne's Wish seemed an extremely worthwhile cause.
"We have had tremendous support from the moorers and local community and the icing on the cake was the Aqueduct Marina team completing the Tough Mudder!"
Rob Eddon, chair of Anne's Wish, said: "We're incredibly grateful to all the staff and moorers at Aqueduct Marina for supporting our cause this year.
"We have been moved by the generosity of all those who have either given up their time, donated to the campaign or even taken a moment to listen to our story."
Charles Horton, regional development manager at Muscular Dystrophy UK, added: "Aqueduct Marina has contributed tremendously to Anne's Wish by nominating the fund as their Charity of the Year.
"The money raised will help us to beat inclusion body myositis and with their support, we are funding pioneering research that could lead to a treatment.
"We are so thankful to everyone who has been involved in supporting Anne's Wish."
People wishing to support Anne's Wish can by visiting www.justgiving.com/campaigns/charity/muscular-dystrophy/anneswish