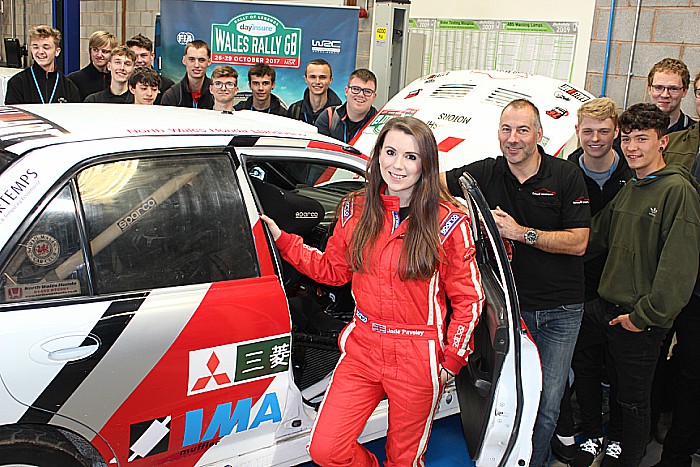 Reaseheath College motor vehicle students met GB rally driver Jade Paveley who cruised onto the Nantwich campus with her Mitsubishi Evo 3.
Jade took a few hours out of her Dayinsure Wales Rally GB preparations to meet with Nantwich students.
Her visit was a 'thank you' for the support students and staff are giving the race, which takes place from October 26-29.
It is the British round of the FIA World Rally Championship and the biggest in the country, covering 300km in Wales and Cheshire.
During its local stages on October 27 (Chester) and October 28 (Cholmondeley Castle), Reaseheath is providing a team to welcome and inform thousands of expected spectators.
The college's dairy technology staff are also providing cheese for the hospitality marquee.
Jade, a member of the Group B Motorsport team, chatted to diploma students, motor vehicle apprentices and HGV parts, sales and marketing apprentices.
And her father David, a successful rally driver and automotive businessman, pointed out the differences between a highly tuned rally car and a road car.
Reaseheath Motor Vehicle Programme Leader Simon Bishop said: "This has been an exciting opportunity for our students to get involved in world class sport.
"They've been able to get hands-on with a highly tuned rally car and to ask questions of the driver, and they've really enjoyed the experience.
"We very much appreciate Jade and David's visit, and are looking forward to actively supporting the rally later this month."
Jade, 24, began karting at 15 and in two years progressed onto circuit racing as a manufacturer driver for Mazda.
She then moved into rallying and hopes to compete in Wales Rally GB.
Jade said: "Girls are really good at understanding car mechanics and how the parts in a system work together.
"Technical knowledge has become as important as workshop skills in our industry, and there are many careers which girls could excel in.
"On a competitive level, rallying is one of the few sports where we can compete on an equal footing with male drivers.
"It's really exciting and I highly recommend having a go at club level."