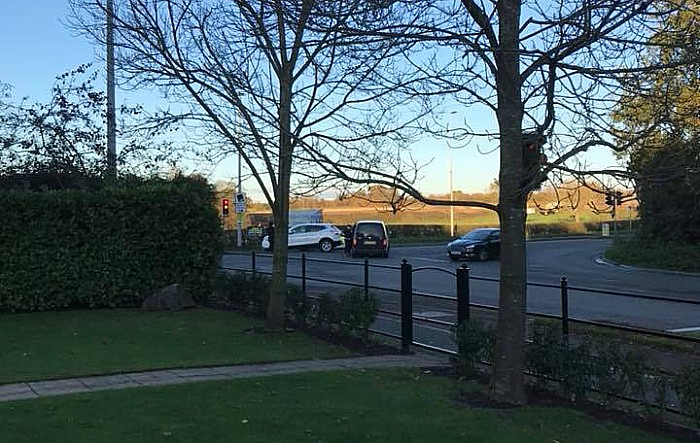 Stapeley councillors are calling for action at two busy road junctions in Nantwich after a series of accidents in recent weeks.
There have been a number of incidents at the traffic lights junctions of Newcastle Road/Elwood Way and further along where Elwood Way meets A51 London Road and Peter de Stapleigh Way.
The latest occurred at the weekend, when two vehicles were in collision in the middle of the Elwood Way/Newcastle Road junction (pictured).
It's not thought anyone was injured in the incident.
An almost identical smash happened on the morning of Monday October 16, sparking massive traffic delays around the area.
And several incidents have been recorded at the 4-way traffic light junction 400 yards up the road.
Cllr Andrew Martin, who represents Nantwich South and Stapeley on Cheshire East Council, said he has called on highways to look closely at these junctions.
"I live very close to this junction (London Road)," he said.
"I suspect the accidents are caused when drivers go forward when the left feeder light goes on – causing the collision.
"I have referred this to Highways. I have told Highways that they need to treat this with high priority. Safety is paramount."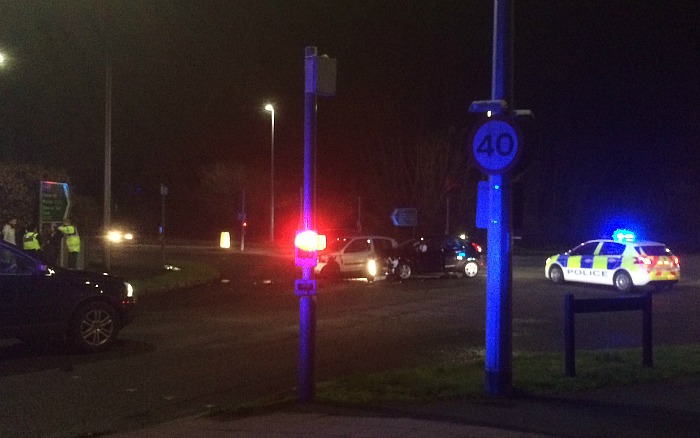 Many users are calling for red light cameras to catch those vehicles jumping red lights.
Others say the lights sequencing needs upgrading.
One driver said: "Sometimes drivers don't understand that they have to stop at the red light, particularly when you have the green arrow filter lights. Accident waiting to happen.
"We've had several near misses when they've had a red light, and one of those was a domestic fuel tanker."
Another added: "That junction is flawed, the filter is not reliable enough.
"Often cars pull forward waiting for it to come on and it doesn't, leaving them stranded in the middle of the junction as the main light goes red.
"Also the amount of traffic that just cruises over the junction on amber and red is dangerous. I use the junction daily and it amazes me there are not more incidents."
A spokesperson for Cheshire East Council said: "As part of planning conditions associated with local development plans, the traffic lights located at London Road/Elwood Way and Newcastle Road/Elwood Way junctions are to be upgraded.
"An analysis of collision data for this location has suggested that no intervention is required at this location on road safety grounds.
"We always take the issue of road safety, across the whole of our network, very seriously and highways are monitored and safety concerns reviewed on a regular basis."
(pic courtesy of Nantwichnews reader)