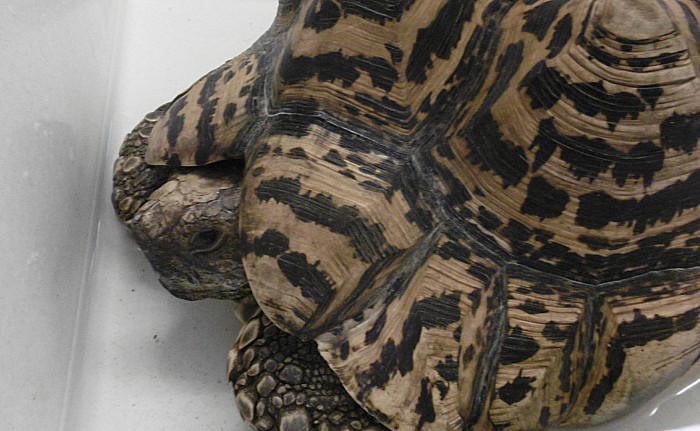 A tortoise found abandoned in the street is on the slow road to recovery at a Nantwich RSPCA centre.
The 11kg leopard tortoise is being treated at the RSPCA Stapeley Grange wildlife centre after being found in a Sandbach street by a member of the public.
And staff at the London Road facility are now seeking a new home for the reptile – nicknamed Lillian – after caring for her for two weeks.
Lee Stewart, manager at Stapeley Grange, said: "The tortoise had runny nose syndrome when she came into us but she has been undergoing treatment and is doing well.
"If no one comes forward to claim her, we would love to find her a new home with an experienced owner who can provide the space this species requires and the right enclosure set-up and diet to keep her healthy.
"The tortoise is around 40cm long and heavy at 11kg, but we haven't been able to put an age to her.
"We don't know for sure if she escaped or was abandoned, but the RSPCA has seen an increase in calls about reptiles – like tortoises – being abandoned because they are too much of a commitment for some people.
"They need a specific environment with humidity, lighting and temperature gradient at the correct levels for the species in order to be healthy and a lot of people don't realise what they are taking on when they buy them.
"Leopard tortoises have been known to grow to a weight of 20kg, or even more, but the average weight is around 10-14 kg in captivity.
"They live between 50 and 100 years, so they are definitely a life-long commitment for an owner.
"We would urge any prospective buyers to do their research of the particular species before getting an exotic pet."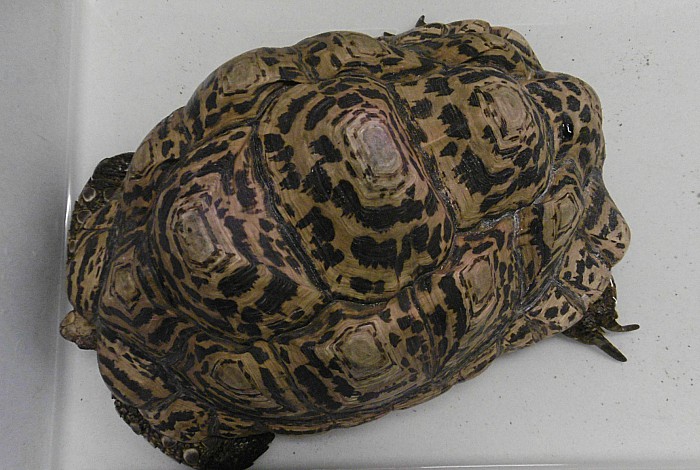 As reptiles, tortoises rely on their environment to be able to warm up or cool down their body temperature in order to function properly.
"Leopard tortoises are an African species that does not hibernate, so these tortoises do not cope well with cold temperature and need access to a heated indoor enclosure during colder months, with UVB lighting provided, when kept in the UK.
"Abandoning one outside would be failing to meet the needs of the animal and can cause them to suffer unnecessarily."
Anyone who can offer a suitable forever home to Lillian can contact Stapeley Grange on 0300 123 0722.