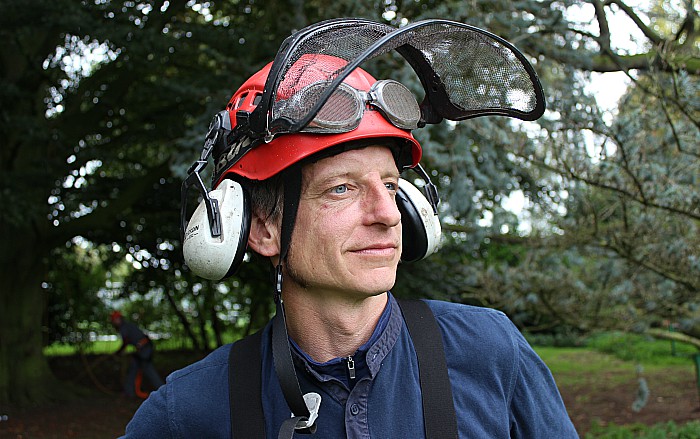 An arboriculture trainer from Nantwich has been helping in the recovery of the Caribbean island of Dominica after it was hit by devastating hurricanes.
Jono Finlow, who trains Reaseheath College students, is a trustee of DART International UK (Disaster Arborist Response Team).
It's a volunteer team of experienced and qualified arborists which goes to disaster zones worldwide to improve welfare of citizens and environments.
Jono and fellow team members were flown out to Dominica days after the island was ravaged by Hurricanes Irma and Maria.
At least 27 people were killed with more missing, and many buildings were destroyed.
The DART team was first on the scene to remove fallen trees and other obstructions from roadways, enabling other aid and rescue organisations to operate.
DART's involvement came after a request from Dominican Foreign Minister Francine Baron, who knew of the team's involvement in previous natural disasters worldwide.
Jono, director of The Good Tree Company in Shrewsbury, was a member of the first DART team to arrive on the lush and green island.
He said: "There was complete devastation.
"Roofs had been blown off houses and there were landslides and trees blocking roads.
"There were queues and rationing everywhere we went.
"Helicopters were flying in supplies but it was difficult getting the supplies to the people.
"Fortunately, we were able to start cutting straight away and were quickly able to clear major routes.
"The greatest memory I've brought back is the amazingly positive attitude of the residents.
"They may have lost their homes and possessions, but they simply said: 'We have life. We can work together and we can get over this'."
As well as helping to clear roads, Jono's team spent time setting up tasks to hand over to a second team which took over two weeks later.
This team was accompanied by a television crew from The One Show and footage of their humanitarian efforts was broadcast afterwards.
The DART team will continue to support the Dominican residents by providing training and safety guidance on the use and maintenance of chainsaws and related equipment.
Learn more at www.dartinternational.co.uk and www.reaseheath.ac.uk/countryside