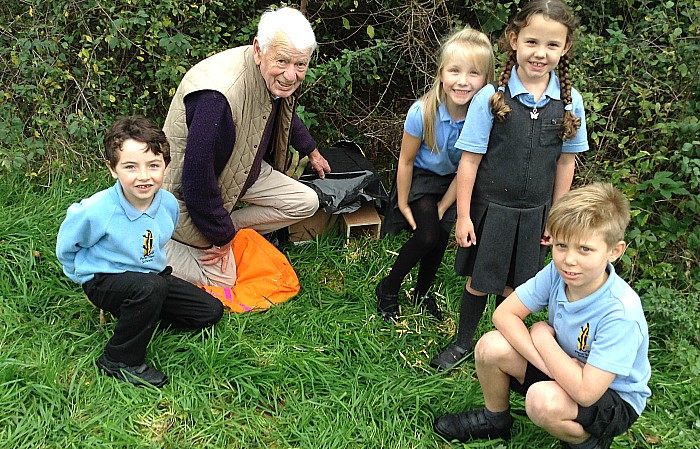 Pupils at Pear Tree School in Stapeley joined Nantwich Green Spaces to build winter homes for hedgehogs.
The youngsters from Yellow class teamed up with Doug Butterill on the project.
Teacher Kay Morrell said: "We have built a strong relationship with Doug who is very generous in his support of the school and his enthusiasm for nature and wildlife is infectious.
"We recently enjoyed time planting bulbs by Nantwich Lake so when Doug offered to visit and build Hedgehog homes with the class we jumped at the opportunity.
"Pupils at Pear Tree are very fortunate that due to the support of Doug and another older member of our community, they get regular opportunities to undertake woodwork projects.
"In the last year they have made a wide range of things including bird boxes and these shelters.
"We are always keen to see our pupils learn by doing and such opportunities are warmly embraced."
After constructing the insulated boxes, Mr Butterill helped children find suitable locations within Pear Tree's forest schools area.
The children are now keenly waiting to see if any hedgehogs take up residence over the winter.
The school also welcomed Penny Rowlinson and Sue Sherwood from Nantwich in Bloom to an assembly.
They presented Pear Tree Gardening Club with a 'Green Fingers Award' and an RHS Level Two School gardening award.
This was in recognition of the school's contribution to the North West in Bloom competition in the summer.
Pear Tree headteacher Boo Edleston added: "We were delighted to take part in the planted pot competition and must thank Potters of Nantwich who sponsored our entry.
"We were particularly pleased to hear that the town had been awarded an overall Gold level certificate for their efforts.
"We look forward to taking part again next summer."