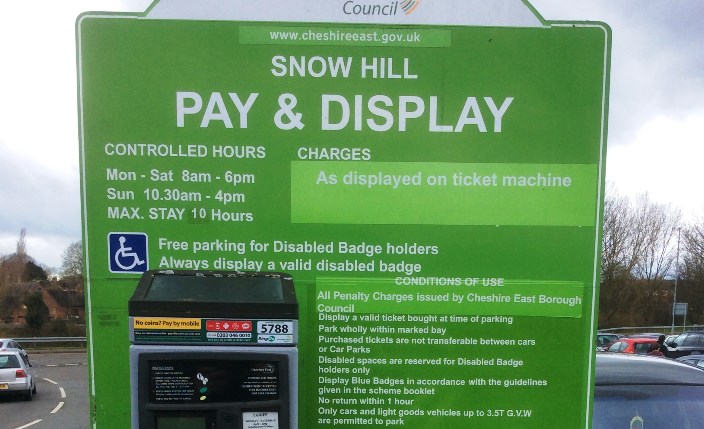 Council chiefs have promised an overhaul of the borough's car park charging policy which currently sees Nantwich shoppers pay some of the highest fees.
The pledge emerged today when council chiefs unveiled Cheshire East's pre-budget consultation report for 2018-21.
Plans to increase parking fees across the borough in 2018-19 have already been kicked into touch by members of the council's Scrutiny Committee.
That would have boosted council coffers by around £220,000 a year.
But users of Nantwich Pool, who currently have their Snow Hill car parking ticket refunded, are set to lose this, according to the pre-budget report.
"All leisure centre users currently receive free parking to attend activities," says the report.
"Where this requires the use of a public pay and display car park a refund of £1 is provided.
"The proposal is to remove the refund of car parking fee for the use of Snow Hill Nantwich and the former Library car park in Crewe."
This would save around £135,000 over the next three years, according to the budget proposals.
"The Cabinet are now proposing a full review of car parking across the borough so that fee increases are linked to a more detailed review of car parking in each area," the report adds.
Cllr Paul Bates, portfolio holder for finance and communications, said: "We're going to look at place-based parking, using market driven forces and the demand for places is a fairer way to decide on parking charges.
"The authority is not acting commercially. If a private car park near a station is charging £10 and we only charge £2, then we need to look at this."
However, he did not rule out a possible increase in parking charges.
This is despite criticism from some that Nantwich and Crewe shoppers pay while those visiting Alsager, Sandbach and Middlewich have free parking.
Cllr Bates also said devolving car parking to town councils could be an option in the future.
"We could devolve all kinds of services, and we are always open for discussions with town and parish councils," he added.
All the proposals set out in the pre-Budget report will go to consultation over the next few weeks before final decisions are taken.