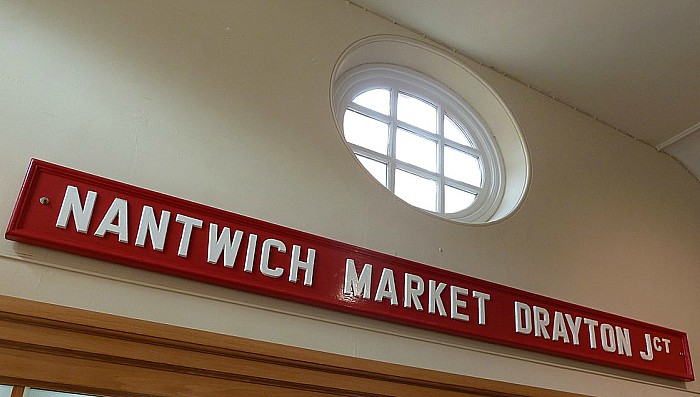 A sign from the signal box which used to control a railway junction has been returned to Nantwich – almost 50 years after it was last seen.
The Nantwich Market Drayton Junction sign is now being displayed at Nantwich Museum on Pillory Street.
The sign, donated by Jeremy Nicholls, whose family have cared for it for 48 years, features cast iron letters on a wooden background and has been restored to its original LNWR colours.
It was early in 1969 when 15-year-old Jeremy watched a demolition gang dismantling the signal box.
It had become redundant when the line to Market Drayton and Wellington closed in May 1967.
As a standard LNWR cabin, it was constructed of wood on a brick base and the demolition of the superstructure did not take long.
Jeremy asked the foreman if he could have one of the name boards and was told "yes, if he could carry it off".
A friend helped him carry the board a few hundred yards to his home.
Jeremy had the board restored four years ago.
"I'm delighted that it's now back in Nantwich where it belongs," said Jeremy.
"And that thanks to the museum, others will be able to see the sign and perhaps learn something of Nantwich's railway past."
A Research Booklet "Nantwich Railways", written by Jeremy Nicholls, is available from the museum shop.
It describes how the Nantwich Market Drayton Junction signal box was located about 100 metres west of the bridge over the River Weaver where the Wellington line parted from the Shrewsbury line.
It was the most complex of the signal boxes at Nantwich having contact with those at Wrenbury, Shrewbridge Road Crossing and Hack Green.
Contact Nantwich Museum on [email protected], call 01270 627104, visit www.nantwichmuseum.org.uk or https://www.facebook.com/nantwich.museumoffical/ or https://twitter.com/NantwichMuseum