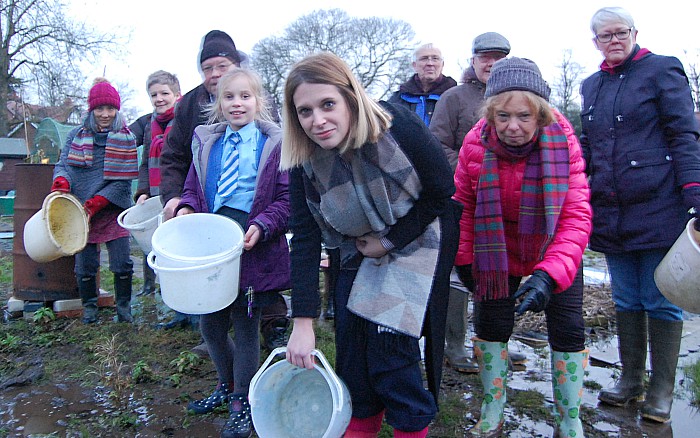 Two councils are still bogged down in a 12-month legal battle over who should resolve flooded allotments in Nantwich.
As allotment tenants at the Brookfield site highlight their battle with swamped plots, Nantwich Town Council and Cheshire East Council remain at loggerheads.
The dispute centres on who is responsible for a drain which runs from nearby St Anne's School under the allotment site to the River Weaver.
It's believed the drain has collapsed near to the boundary with the school.
It causes excess rainwater to finds its way along the line of least resistance on to the allotment site.
Nantwich Town Council, who lease the allotment site from Cheshire East Council, say the lease is "silent in respect of the drain".
Both United Utilities and Cheshire East Highways do not have responsibility for it.
Cheshire East argue the drain is the responsibility of the town council as tenant of the site.
But the town council disputes this after lawyers examined old "conveyances" when the lease was offered on the allotments site in 2012.
A town council spokesman said: "In these conveyances the (then) County Council reserved, for the benefit of themselves and their successors in title, the right to use the drain/culvert 'subject to payment by (the County Council) of the cost of repairing, maintaining and cleansing such drain and making good all damage occasioned to the land in exercising the right to use the drain'.
"The town council's solicitor concludes therefore that responsibility for the cost of repairing, maintaining and cleansing the culvert/drain lies with the County Council – or their successors in title, Cheshire East Council.
"This information was passed to Cheshire East on 16 July 2017 and the town council awaits a response."
But Cllr Ainsley Arnold, Cheshire East Council cabinet member for housing, planning and regeneration, said: "We are looking into this matter with a view to bringing about a positive outcome for the allotment holders.
"The allotments were leased to Nantwich Town Council on a 125-year lease and, as a result, any issues relating to the allotments should be raised with the town council.
"However, we hope to work with the town council to ensure as swift a solution as possible."
Crewe and Nantwich MP Laura Smith joined plot holders to highlight their plight, and has called on the two authorities to resolve the dispute as soon as possible.
(pictures courtesy of Jeremy Herbert)