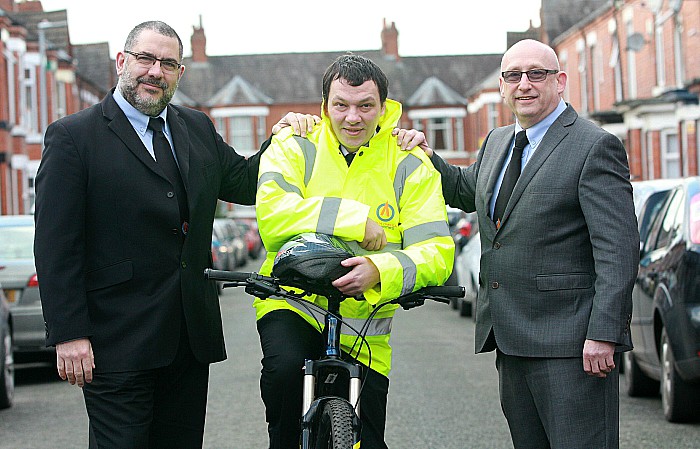 A company boss from Nantwich is encouraging employees to get on their bike and help cut down on congestion across South Cheshire.
Nantwich man Ken Lawton, owner of Alpha Omega Securities, has launched a Ride to Work scheme offering his staff a brand new bike to travel to their work destinations and head office on Lawton Street, Crewe.
The company, which employs 250 people, provides door supervisors at pubs and clubs across the North West and security guards at major outdoor events such as the Royal Cheshire County Show and Nantwich Show.
Mr Lawton, a former kick-boxer who founded the company 20 years ago, said: "I believe in keeping fit and the discipline of a good exercise regime which supports physical and mental well-being.
"Riding a bike is great for all that and helps cut down on congestion too.
"I like to think we are doing our bit for the environment and hope other local companies will follow suit."
Employees are given an opportunity to buy a cycle of their choice and pay back the cost through their salary over a period of time.
The scheme is helping them bypass queues at peak times on Nantwich Road and Edleston Road and the hassle of clocking on late.
Alpha Omega operations director Andy Taylor added: "The Government operates a bike scheme but this is a simple way of getting employees on their bikes with the minimum fuss.
"A decent bike doesn't come cheap and this way they can buy their new wheels and accessories without making a big dent in their pay packets."
Newly-appointed Mr Taylor joined Alpha Omega from mobile phone company Brightstar 20:20 UK Ltd in Crewe where he was in charge of site security.
He added: "Alpha Omega is a local success story which has grown from small beginnings into one of the region's biggest security specialists.
"It's good to be part of an organisation that focuses on employing local people and has exciting prospects for future growth."
Alpha Omega was a finalist in the Large Business Category at the South Cheshire Chamber Business Awards in November and has a maximum five star rating on Google reviews.
For more information on security services call 01270 258881 or visit www.alphaomegauk.com
(Pic: Alpha Omega managing director Ken Lawton (right) with new Operations Director Andy Taylor and security guard Andre Smith who has signed up to the bike scheme)