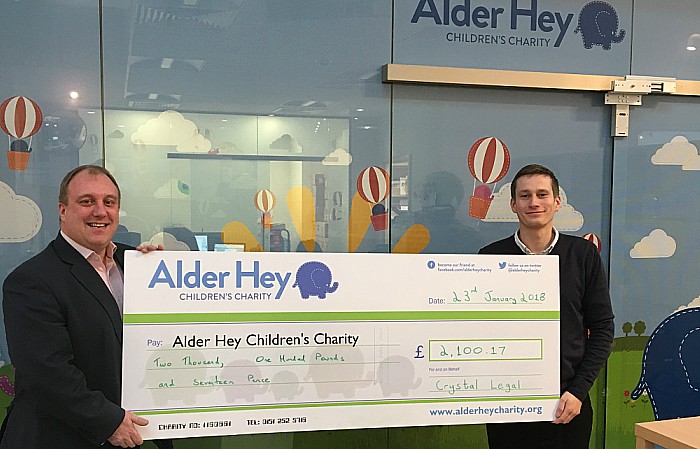 Charitable staff members from South Cheshire firm Crystal Legal Services delivered a generous donation of £2,100 to Alder Hey Children's Charity.
MD at Crewe-based Crystal Legal Tony Shields handed over a giant cheque on behalf of his team after three months of fundraising for the cause.
Tony said: "We wanted to raise money for this exceptional charity because it's important to support such a great initiative.
"The staff passionately believe in the work Alder Hey Children's Charity carries out and they all came together to raise this fantastic amount."
The money was raised through a combination of events and activities throughout the last quarter of 2017.
This included a Halloween party filled with prize based activities whilst everyone was in fancy dress, an employee run tuck shop, dress down Fridays and a Christmas advent raffle which consisted of a daily prize draw throughout December.
It will help Alder Hey support children around the world through vital research and innovation.
Alder Hey is aiming to create a world-leading healthcare campus for children and young people including a state-of the art hospital alongside a dedicated research, education and innovation centre (Institute in the Park).
Allan Eves, corporate partnerships officer, received the cheque on behalf of the charity and took Tony on a tour of the facility.
Tony added: "It was very modern and impressive.
"I visited the Innovation Hub and Institute in the Park and he taught me all about the inspiring work the team does.
"I am proud that my staff have gone a little way in helping to fund such an amazing charity."
Allan added: "We are really grateful to Crystal Legal and all their staff for their support.
"Donations will go towards phase two of the 'Institute in the Park' which is part of our health campus and is allowing Alder Hey to develop better medicines and treatments and significantly contribute to the future health and wellbeing of children from right across the globe."