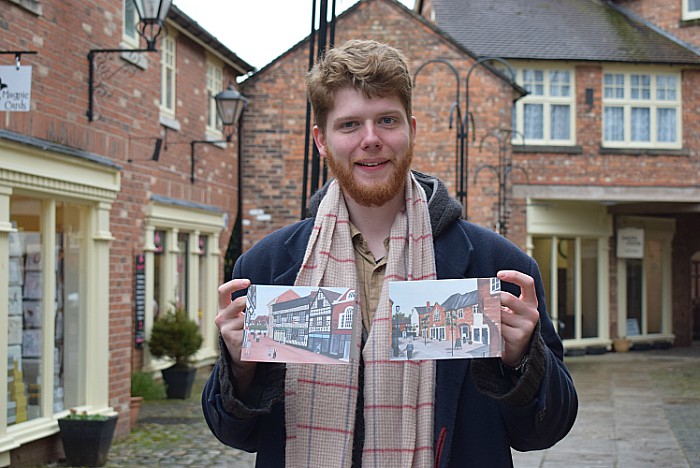 A young autistic artist has unveiled his latest oil paintings of Nantwich town centre landmarks, writes Jonathan White.
Christian Turner, 24, from Sandbach, has produced two pieces of work following on from his paintings last year of Nantwich Town Square and Christmas in Nantwich.
His new oil paintings are of Cocoa Yard, which connects Pillory Street and Hospital Street, and of The Crown Hotel on High Street.
All the scenes are available to buy as a greeting card and a postcard in Nantwich from the Nantwich Bookshop and Coffee Lounge on High Street.
They are also available from Special Cards on Market Street, Inside Paradise on Oat Market, and Magpie Cards in the Cocoa Yard.
Last year, Christian released a Sandbach 2018 calendar of his paintings of Sandbach landmarks.
This includes Sandbach Cobbles, Sandbach Town Hall, The Wheatsheaf, Sandbach High Street, Sandbach School, Sandbach Church, The Old Hall, Well Bank, The Almshouses, Sandbach Crosses, Wheelock Hall Farm, and Christmas on the Cobbles.
Christian has also painted birds, marine life and geometric patterns.
He has been drawing since he was a child and studied A-Level Art at Sandbach School.
Christian has a small art studio upstairs in Sandbach Art Room on High Street, Sandbach.
Some of his artwork is also for sale at Love Art Gallery on Pillory Street in Nantwich.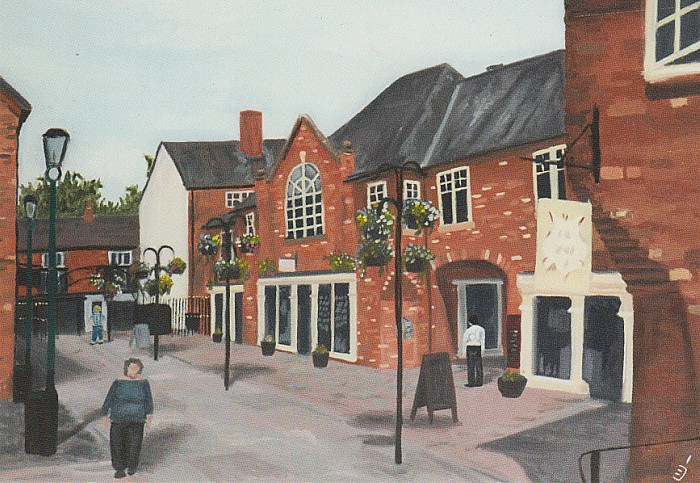 Christian said: "I have really enjoyed producing my work in Nantwich.
"I am currently working on further paintings of Nantwich, including Churche's Mansion.
"I also plan to produce bags and mugs based on my paintings in the near future. I hope that you enjoy my paintings.
"Thank you for your support – it is very much appreciated."
For further information visit www.christianturnerart.com, contact him on [email protected], telephone 07432116922 or Facebook http://www.facebook.com/ChristianTurnerArt
(Pics courtesy of Jonathan White)