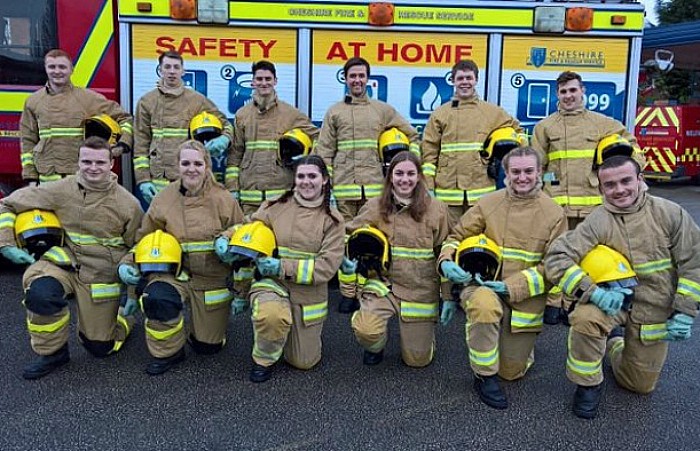 A 21-year-old from Tarporley is among a group of 11 Cheshire firefighter apprentices heading out on a mission to Nepal.
Hannah Remelie and 10 others have raised funds to go out to help the youngest children in a Nepalese village access education.
Now they have headed out to help them build a new facility for the children after raising £30,000.
Others in the group are from Crewe, Northwich, Warrington and Liverpool.
Hannah said: "I'm also an on-call firefighter at Tarporley Fire Station and before that I was a fire cadet for many years.
"I feel that the Nepal project is an amazing opportunity, filled with exciting new experiences which are all like nothing I have ever done before."
Working with the charity Classrooms in the Clouds, each apprentice was set a personal target of raising £2,700.
This formed part of their development programme as Firefighter and Community Safety Apprentices with Cheshire Fire and Rescue Service (CFRS).
All money raised has gone towards the building of the Early Years Centre in Kharikhola, a remote Nepalese village near Lukla.
The build will be to an earthquake resistant standard and will provide gender specific toilets as well as specialist early years learning resources.
It will provide strong foundations for learning, enabling the youngest children in the village access to an education.
The Nepalese earthquakes in 2015 killed more than 8,000 people, injured more than 21,000 people and left hundreds of thousands of people homeless.
The apprentices will be out in Nepal for 16 days and will be accompanied by Dawa Geljen Sherpa who is a trustee of Classroom in the Clouds and his team of Sherpas.
Dawa will lead the group on a trek for two and a half days to get to the village where the team will undertake various tasks to get classrooms ready for children.
The party will sleep in tea houses and experience rural life in Nepal.
Sam Rogers, apprentice coordinator for CFRS, will be accompanying the team.
He said: "The apprentices have worked really hard raising this money and have been involved in some great fundraising activities, some of which have taken them out of their comfort zone, such as skydiving and some which have been completed through pure determination like the Everest ladder climb.
"Thanks to their hard work and support the facility that's been built with the money will make a huge difference to the whole community of Kharikhola.
"We are all now looking forward to seeing the building and meeting the children and elders of the village."
Apprentices will be accompanied by three members of CFRS staff.