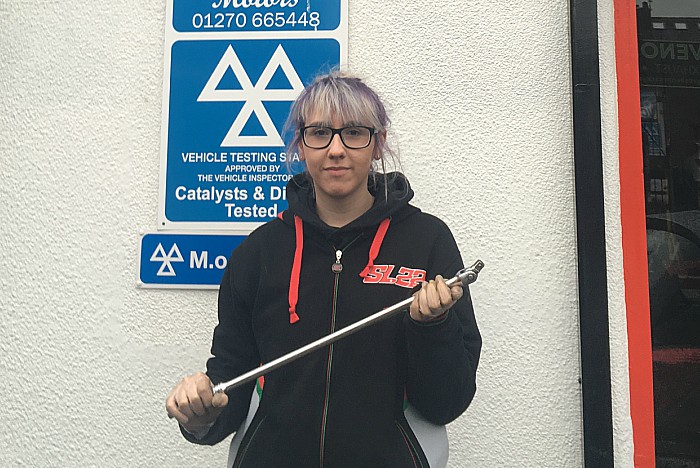 Teenage mechanic Abbi Hardstaff-Evanson is helping a local car firm motor ahead – despite being knocked back by many others.
Abbi, 18, struggled to find a company to take her on as an apprentice and feared her gender was holding her back, despite possessing all the key skills.
But now she's firing on all cylinders after being take on at Prestige Motors on Collins Street, Crewe.
Alex Walker and Kristian Davies, who jointly own Prestige, said they had no hesitation in giving Abbi a chance – and she hasn't looked back since.
Alex said: "Abbi used to help her dad when he was fixing the family bikes and cars and this created the interest.
"She tried the classroom approach but wanted a more hands on role.
"But she found nobody locally would get back to her, even regarding a trial!
"She is over the moon to have joined Prestige and given the opportunity to show what she can do.
"We were proud to take on Abbi, whose calls were not even being responded to at other garages! She's proving a real asset."
Abbi, 18, who went to school at The Oaks Academy before attending college at Crewe Engineering and Design UTC.
"I thought it could be quite daunting at the start," she recalls.
"But the guys at Prestige have been very friendly and welcoming to me starting the apprenticeship."
Alex took over Prestige with Kristian after he left Gateway Peugeot in February last year.
Kristian also owns Alan Davies Car Sales, which his dad founded, on the pitch next door on Stewart Street.
"We have massively increased our used car stock and have a big presence on social media," added Alex.
"We are selling in excess of 20 to 30 cars a month.
"Since we have taken over Prestige, we have retained all the staff.
"Angela, our workshop manager, who has 25 years' experience from her time at Crescent garage in Nantwich, completes the team.
"We have now taken on the site at Collins Street which burned down where we will be concentrating on supplying the local community with quality cars at under the £2,000 mark."
The company also sponsors Crewe Alex Ladies FC top striker Amanda Fallon and supports local charities like The Shine Bright Foundation for women who have been diagnosed with triple negative breast cancer.