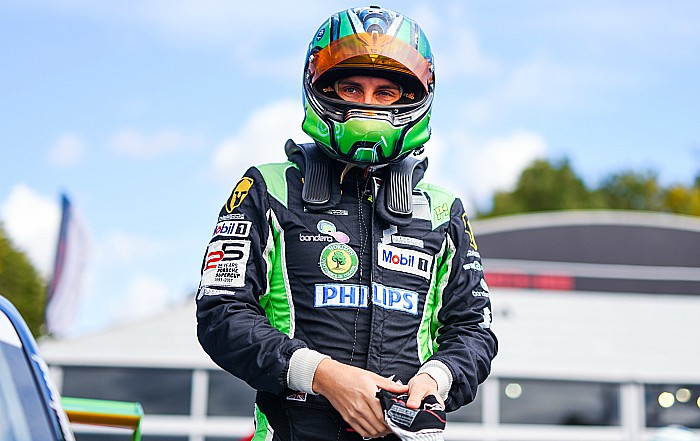 Tarporley racer Tom Oliphant's challenge for the Porsche GT3 Cup Challenge Middle East title came to a heart-breaking end in the penultimate meeting in Bahrain.
Contact from his chief championship rival caused a first retirement of the season for Oliphant.
He is unable to race in the season finale next month due to his Dunlop MSA British Touring Car Championship commitments.
It meant he needed to wrap up the title at the Bahrain International Circuit with a weekend to spare.
The 27-year-old had a brilliant record of four victories and four second places in the previous eight races, and had a 19-point lead at the top the championship standings.
He challenged his title rival Al Faisal Al Zubair in the opening two laps at Bahrain, and he dived down the inside at the first corner on lap three.
Then Al Zubair sharply turned into the corner and made contact with the rear left wheel of Oliphant's car, causing a broken suspension and an immediate end to his race.
The retirement effectively ended his championship aspirations, with a five place grid penalty for Al Zubair proving scant consolation.
In the second day, Oliphant slipped to third at the start of the race, but moved up to take second place.
Oliphant said: "I'm gutted to have come away from the weekend with anything other than the championship title.
"Having led the way right from the opening meeting, I feel like I deserved the right to fight for the honours on my last day of racing out here, but that opportunity was taken away from me.
"I'm confident that I would go and claim title success in the final rounds, however due to my BTCC commitments this won't be possible.
"Sometimes the situation is out of your control and sadly this was the case for me. I have given it everything and just came up short.
"My time in Porsche has come to an end and I want to thank Redline Racing and Lechner Racing for running me in the championship's and always giving me a great car, a large part of which was due to my mechanic Alex and engineer Frank, who have been there for every race.
"Also, thank you to my sponsors; Philips Automotive Lighting UK, Horizon Specialities and Next Level Motorsport for making it all possible.
"Now, it's time to move on and focus on the new challenge of touring cars and I can't wait!"
Oliphant's attention turns to preparations for his maiden Dunlop MSA British Touring Car Championship season, which began with successful tests at Snetterton, Donington Park and Brands Hatch in his Ciceley Motorsport Mercedes A-Class.
More tests are planned before the opening rounds of the season at Brands Hatch on April 7/8, including during the championship's official launch at Donington Park on Tuesday March 27, where Oliphant will unveil his sponsors and livery for the new season.