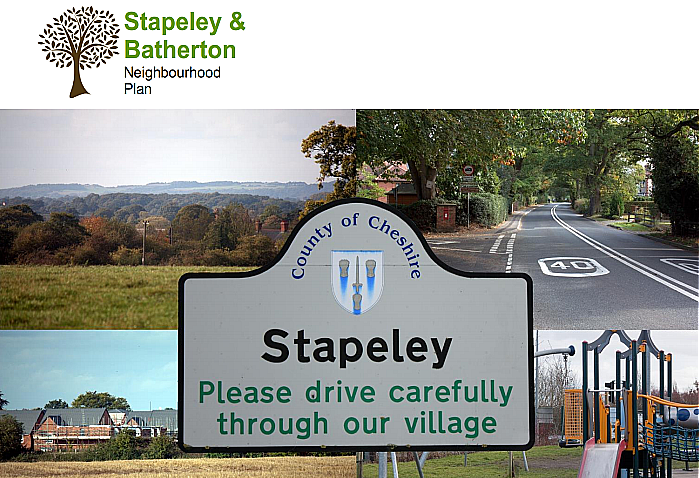 Stapeley's Neighbourhood Plan has been completed and endorsed by Cheshire East Council.
Cllr Ainsley Arnold, council cabinet member for housing, planning and regeneration, confirmed the move following the successful referendum in the village last month.
Other Neighbourhood Plans across the borough are in the pipeline which will take the total number to 17, one of the highest in the country.
Many local communities are making similar plans, including Calveley near Nantwich, while Wrenbury and Newhall are close to publicising draft plans.
Neighbourhood plans contain policies designed to shape local development and safeguard the long-term development of each area on matters such as employment, protection of wildlife and green spaces, and housing needs.
Sean Hannaby, Cheshire East Council's director of planning and environment, said: "This is fantastic news for plan making in Cheshire East and confirms that our residents have the appetite to help themselves to plan for the future.
"We've been firmly supporting neighbourhood planning for a number of years now.
"Sound and robust neighbourhood plans allow communities to take greater ownership of planning policy, which directly impacts on their lives.
"They enable local people to develop policies to address those planning matters that affect not only their interests but also wellbeing.
"Working together across our Local Plan and neighbourhood plans helps us create a development framework, which puts communities at the heart of the planning process.
"I'm especially pleased to see our first land allocations coming forward through neighbourhood plans at Calveley, Poynton, High Legh and Wrenbury.
"These give us certainty about what housing will go forward and where it will be, all led by residents.
"With the government's recent confirmation of funding and policy support for neighbourhood planning, we're looking forward to supporting neighbourhood planners across Cheshire East."
Cheshire East Council adopted its new Local Plan Strategy last July. Detailed aspects in a part-two document is set to be unveiled later this year.
For more information visit the council's website here.
Alternatively, contact the neighbourhood planning team by email [email protected]