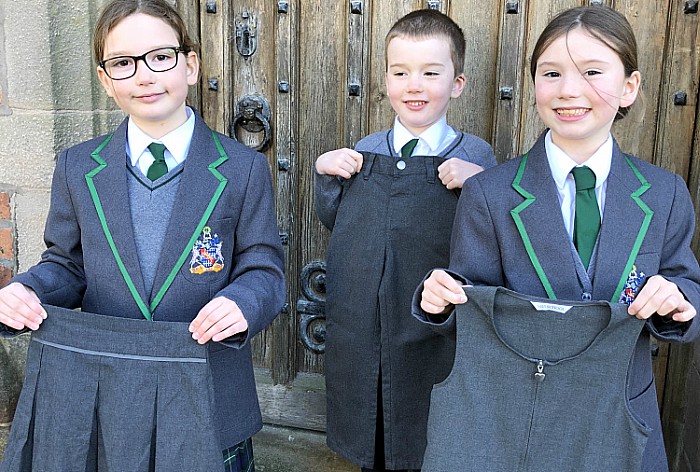 Big-hearted Bunbury children stopped their old school uniform going in the bin – so they could donate it to an orphanage in Uganda.
The pupils worked together to collect more than 500 items of old uniform after Bunbury Aldersey CE Primary near Nantwich decided to change its outfit.
They were inspired by the heart-warming story of Audlem lady Maggie Phillips.
Maggie, a member of WI Audlem, knew of an orphanage being set up in Uganda by the charity Kerry West Orphans, which had no money and decided to begin collections of items to send across to Africa.
They collected soft toys as Christmas presents, as well as Christmas bags containing toiletries and other school items.
Then jumpers were knitted, and then they launched the scheme to collect old school uniforms for children to wear.
Half the money donated at Maggie's funeral service held recently has also been forwarded to the charity.
Bunbury school headteacher Nicola Badger said: "After changing the school uniform we wanted as a school to do some good with all the old trousers, skirts and shorts.
"We collected all the old stock ready to donate to all the children in Uganda.
"The children were really enthusiastic about helping children who did not have uniform to wear to school.
"It has been such a good experience for the children to be able to recycle all our old uniform in such a positive way."
Rachel Thirlwall, one parent at Bunbury who helped, added: "It's really nice we have been able to help the charity that Maggie was so passionate about supporting.
"A big thank you to all the wonderful children and parents of Bunbury Aldersey Primary School without their support and donations we couldn't have achieved this.
"We collected more than 500 items of uniform including trousers, shorts, skirts and pinafores."
(Pic: Charlotte, William and Katie with items of uniform set for Uganda)