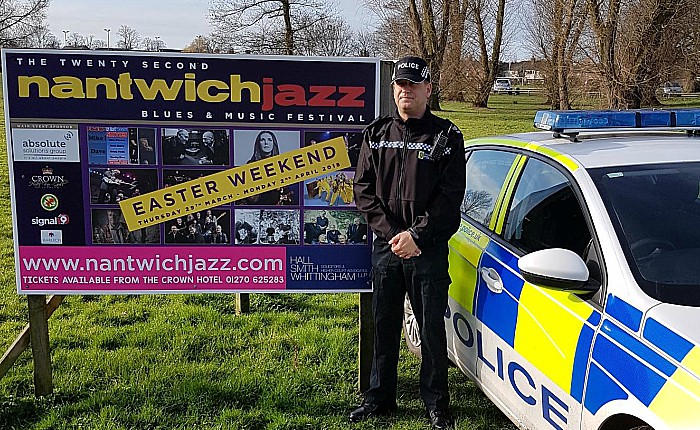 Police chiefs in Nantwich say they will be ready for the influx of thousands of music fans attending the town's 22nd Jazz, Blues & Music Festival.
The four-day event is classed as a 'Force' event by officers in Cheshire, with policing strategy forged from headquarters.
But local officers are hopeful the popular festival will pass off with little to no incidents like last year.
Dozens of venues will be staging live music shows across the town starting this Thursday March 29 and running until Easter Monday.
Sgt Ian Bennett (pictured), head of Nantwich Policing unit, said: "We shall be policing along the lines of last year, with a high visibility presence throughout the weekend.
"This will be every day but predominately on the Sunday which traditionally tends to be the busiest.
"We want it to be a safe event for everyone to enjoy in the local community.
"But any incidents of anti-social behaviour will be dealt with robustly, and dispersive powers will also be used to remove people from the town."
Officers will also be working with licencees as part of the town's successful PubWatch scheme to spot any potential trouble-makers.
"The landlords in our town are on the whole very good and work closely with the police to deal swiftly with any issues," Sgt Bennett added.
"The festival is classed as a 'Force' event in terms of staffing, so there will be a lot more officers drafted in.
"Last year was a successful event with incidents and arrests down, and we're hoping for the same this year."
Festival shows start on Thursday, with thousands of wrist-bands being sold to give visitors access to a range of venues.
Tickets are also available for bigger performances at Nantwich Civic Hall, The Crown Hotel and other locations.
Big names playing this year include Dr Feelgood, Glenn Tilbrook (ex-Squeeze member), Climax Blues Band and Jive Aces.
For all details and to buy tickets and wristbands, visit www.nantwichjazz.com