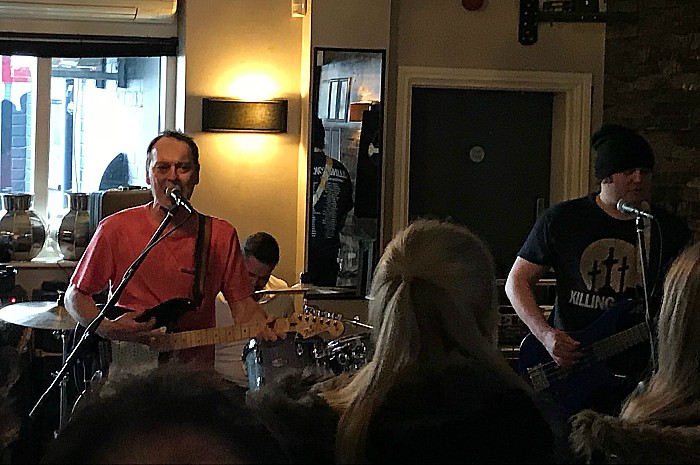 Music fans have been flocking into Nantwich to enjoy an eclectic mix of live performances during the 22nd Nantwich Jazz, Blues and Music Festival.
Soggy conditions failed to dampen the spirits of thousands of revellers on Good Friday as they took in dozens of different shows in venues across town.
Pubs and clubs were busy, and the atmosphere was lively and fun as fans young and old mixed.
Some class performances we took in on Good Friday included Beam (pictured) at Firenze, a three-piece rock outfit who performed quality covers of artists such as Radiohead, Jimi Hendrix, U2, Eurythmics and more.
We also watched the John Collins Band playing to a packed crowd at The Cat, and later the excellent solo blues artists Rick Whitehead at the Crown Hotel Bar.
Blue Cartel entertained a good crowd in the marquee at Residence on Mill Street, while town favourites Vavoom and the Bon Jovi Experience played to packed audiences at The Studio nightclub.
The festival is running until Easter Monday and organisers are expecting more than 40,000 people to attend during its five day period, boosting the town's economy by more than £1 million.
There will be more than 150 solo performers and bands performing at more than a dozen different venues including The Cat, Firenze, Street, Nakatcha, Harrisons, The Talbot, The Malbank, Red Cow, Bowling Green, Residence, Crown Hotel and Bar, White Horse, Bank Stage, The Studio.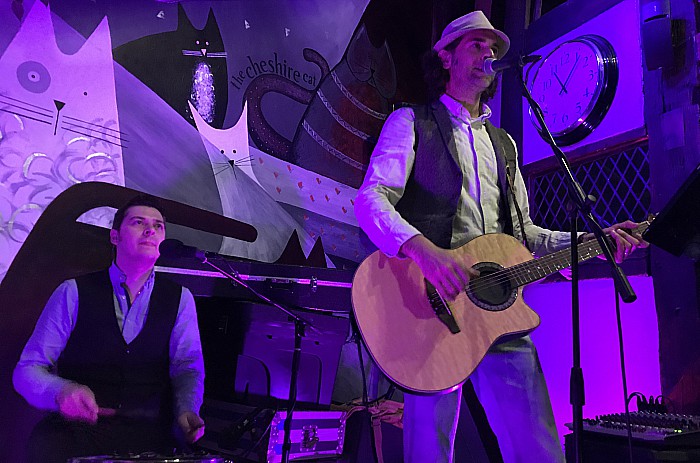 Nantwich Civic Hall, Nantwich Methodist Church and Nantwich Museum are also hosting events, while The Railway Hotel is staging its own live performances during the festival.
Entry to the majority of the festival gigs is via a wristband priced at £7 (online) and £8 from town locations.
Headline acts include Glenn Tilbrook (ex-Squeeze member), Thea Gilmore, Dr Feelgood, The Climax Blues Band, Vavoom and Jive Aces.
Electronica tribute band 'Electro 80s' performed on the opening night at The Studio.
Their concert took place in front of a capacity audience.
Electro 80s performed a two-hour set recreating songs by artists including Gary Numan, OMD, A Flock Of Seagulls, Tears for Fears, Visage, Kraftwerk, Howard Jones and Depeche Mode.
Nigel Woodhouse, Director of Operations at The Studio, said: "It was great to have Electro 80s back again this year.
"It was good to have so many people reliving their youth to the unmistakable electronic sounds of the 80s.
"We hope that visitors enjoy the numerous bands we have on offer over the weekend."
For more details of shows today, tomorrow and East Monday, and to download a full programme, visit www.nantwichjazz.com
(Pics and additional reporting by Jonathan White)