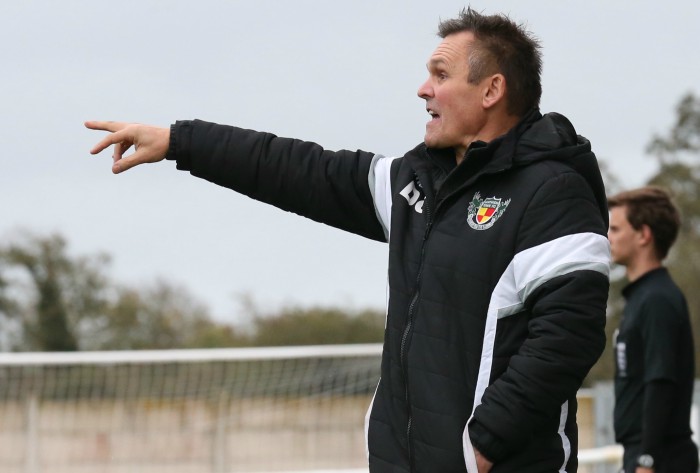 Nantwich Town were condemned to their third league defeat on the bounce at a sun-kissed afternoon at Ashton United, writes Ryan Batty.
A first-half injury-time free kick clinched the points for the hosts after the Dabbers had levelled an early Ashton opener.
Nantwich manager Dave Cooke brought in Courtney Wildin, Nathan Cotterell, David Neligwa, Jordan Cole and Sam Wakefield to the starting eleven.
And the visitors had the first opening when the ball fell to the feet of Toby Mullarkey on the left of the area, but his shot was saved by Ollerenshaw.
A few moments later, an Ashton shot from distance was tipped over the bar well by Myles Boney.
The hosts were in front after just six minutes, a floated ball over the Nantwich backline found Liam Tomsett who flicked a neat header over Boney.
Mullarkey picked the ball up and hit a low shot from distance that troubled Ollerenshaw.
And he had another near chance as Ollerenshaw rushed out of his box, allowing the former Leek man to attempt a dink from distance, but the Ashton keeper was just too quick.
Ashton almost doubled their advantage on 33 minutes as a save from Boney smacked off the post back into the firing line but Nantwich were able to clear.
Five minutes later, Nantwich were back in the game.
Jamie Morgan was hauled down on the edge of the box.
Caspar Hughes' free-kick dipped into Jordan Cole, whose shot was initially saved, but it hit Ashton scorer Tomsett and bounced in for an own-goal.
Nantwich could have taken the lead on 45 minutes when a David Neligwa run on the right found Morgan, but the full-back's shot was just over.
Then a free-kick was awarded to Ashton when Troy Bourne fouled his man on the edge of the Dabbers penalty area.
Sam Sheridan stepped up and curled it over the wall into the top-right corner.
Youngster Tom Killilea was brought on by Cooke after the break.
And five minutes into the second half, Nantwich had it in the back of the net as Cole was played through but the referee had blown for offside.
Ashton nearly extended their lead as Dyche's effort dipped over Boney but clipped off the bar.
Nantwich had another close chance as Walley turned his defender to find Morgan who dashed into the area, but his effort was easily saved.
After 83 minutes, Cotterell weaved through the defence but was unable to find Mullarkey arriving in the middle.
And despite four minutes of added time, Nantwich were unable to find an equaliser as their final away game of the campaign ended in defeat.
Nantwich are back in action as they host the final two games of the league season, at home to Shaw Lane on Tuesday evening before their final game of the season against Stafford Rangers next weekend.
Nantwich: Boney, Morgan, Wildin, Stair, Bourne, Mullarkey, Neligwa (Leigh 73′), Hughes (C)(Killilea 46′), Wakefield (Walley 61′)
Subs not used: Mwasile, Bell
(pic courtesy of Jonathan White)