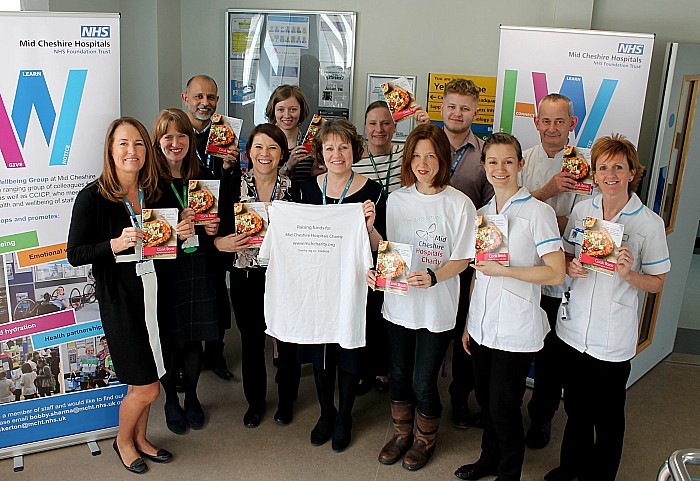 Staff working for Mid Cheshire Hospitals NHS Foundation Trust have offered up their favourite recipes to create a fund-raising cook book.
Employees at Leighton Hospital and other trust centres hope it will boost the MCH Charity's new £1.5m "Everybody Knows Somebody" Dementia Appeal.
The cook book was the idea of HR Assistant Audrey Butterworth, who worked with the trust's communications team and health and wellbeing group.
They pulled together the recipes from a number of staff into a glossy, full colour book.
The sweet and savoury recipe book was produced by Chester-based publishing company Majestic Publications at no cost and also includes healthy eating tips.
Audrey, who donated her own Victoria sponge recipe to the book, said: "I wanted to do something that would help to support the charity's new major appeal and came up with the idea for the recipe book last year.
"With help and support from my colleagues, we managed to get recipes sent in from staff all across the Trust.
"I'm really pleased with how the book has turned out – it's easy to follow and the recipes are mainly low fat, low sugar and quick to make.
"Of course, there are a couple more indulgent recipes included too for when a special treat is needed!"
Emma Robertson, MCH Charity manager, said: "Audrey and her colleagues have worked extremely hard to get this cook book produced, which is easy to see from the excellent end result.
"We recently held a launch event and sold 50 books, raising £259 for the appeal which is fantastic.
"Audrey should feel very proud of what she's achieved."
The books are now available from Leighton Hospital's Bistro and coffee shop, as well as the charity office, for a suggested donation of £5.
(Pic: Audrey Butterworth (far left) and Chief Executive Tracy Bullock (centre) with members of Trust staff who contributed to the recipe book)