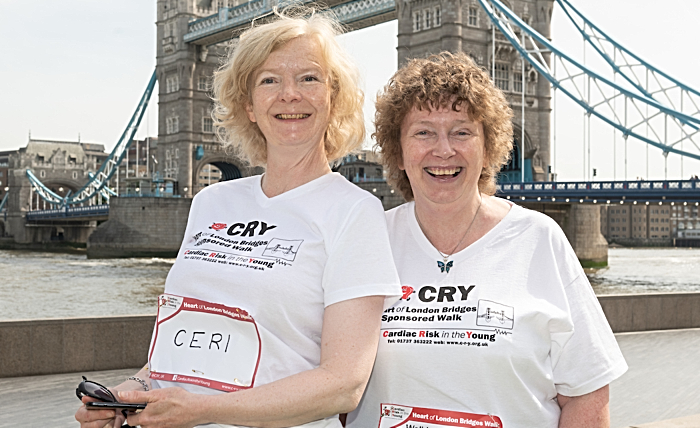 Bereaved Nantwich mum Alison Howells took part in the annual CRY Heart of London Bridges Walk in memory of her tragic daughter Ceri.
The walk is organised by a leading heart charity, Cardiac Risk in the Young (CRY), which campaigns to raise awareness of heart problems in young people.
Ceri was just 22 when she died suddenly in her sleep in 2014 from an undiagnosed heart condition.
She had only been married nine months to James and was due to graduate with a First Class Honours Degree in Drama and Theatre Studies from the University of Kent, which was awarded posthumously.
The CRY Heart of London Bridges Walk is now in its 12th year and is one of the flagship events in the charity's calendar, raising more than £750,000 since its launch in 2007.
Almost 1,400 people left Potters Fields Park following a minute's silence and walked together, passing by 12 of London's most famous landmarks.
It represented the deaths of 12 apparently "fit and healthy" young people who die every week in the UK from young, sudden, cardiac death (YSCD).
In 80% of cases, there will have been no signs or symptoms, which is why CRY believes proactive cardiac screening is so important.
CRY now tests around 27,000 young people each year aged between 14 and 35 – and more than 165,000 since the screening programme was launched in 1995.
One in every 300 young people tested by CRY will be identified with a potentially life-threatening condition.
Dr Steven Cox, chief executive of the charity, said: "CRY's Heart of London Bridges Walk is always a very emotional and poignant day.
"Over the past 12 years, it has really focused on raising awareness and remembering those young people who have died, as well as helping to raise funds to save young lives.
"It also provides a unique opportunity for our supporters to come together and meet up with other families who will have been through a similar experience.
"We are immensely grateful to Alison – and everyone who took part this year – all of whom will have their own personal experience of the devastating impact of a sudden cardiac death of a young person close to them.
"We value their support hugely and also know that so many people from their local area will have been rooting for them every step of the way too."