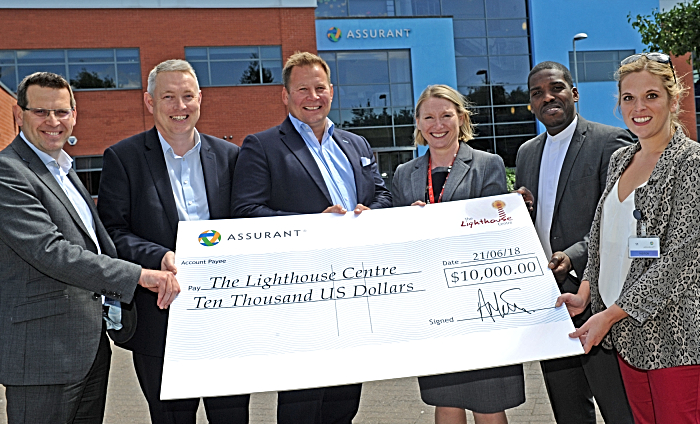 South Cheshire firm Assurant has donated $10,000 to Crewe's The Lighthouse Centre.
The donation aims to help the New Testament Church of God centre support its work for those in need in the town.
The Assurant Foundation is the charitable arm of American risk management firm Assurant Inc.
Assurant provides employees with paid time to volunteer and $1,000 per employee per year in matching gifts.
Andy Morris, president and CEO of Assurant Europe, and Laura Smith, MP for Crewe and Nantwich, presented the donation to Revered David Edwards.
It also coincided with the company marking its 10-year anniversary at the Emerald Buildings in Crewe.
Andy Morris said: "The Lighthouse Centre does extremely important work providing assistance to those in need both in Crewe and further afield in the UK.
"As one of the main employers in Crewe, it's rewarding to be able to support a group that works so hard for our community.
"I also appreciate our local MP Laura Smith taking the time to come and visit and learn more about the work that we do, both as a business, and with our charitable partners."
Reverend David Edwards, of the New Testament Church of God, The Lighthouse Centre, said: "As a representative of the whole team at The Lighthouse Centre, I'd like to say a big thank you for this donation.
"It will help us continue our community-based social support programmes as we focus on making a difference to people's lives."
(Pic L-R:  Richard Weddell, Ross Carson , Andy Morris and Annie Guest (all Assurant), Rev David Edwards (The Lighthouse Centre) and Laura Smith MP)