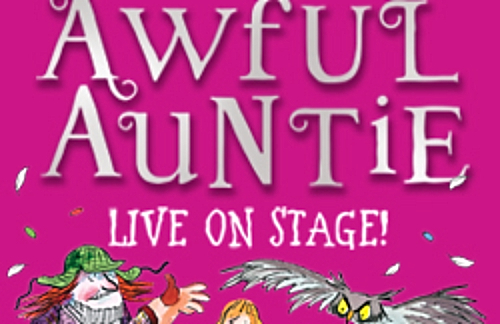 Citizens of Crewe and Nantwich are advised to watch out for a very large owl as well as the most awful Auntie in history.
They will be up against a brave little girl and her ghostly friend in the world premiere production of David Walliams' Awful Auntie at Crewe Lyceum Theatre, August 22-26.
This funny and exciting new show is from Birmingham Stage Company, the award-winning producers who previously brought David Walliams' Gangsta Granny to the stage.
Walliams said: "The Birmingham Stage Company's Gangsta Granny is truly brilliant, so I'm hugely excited that they're now bringing Awful Auntie to the stage.
"It promises to be a thrilling show and a total hoot – Wagner the owl and I can't wait to see it!"
Awful Auntie tells the story of Stella, who when she sets off to visit London with her parents had no idea her life was in danger.
Waking up from a coma three months later, only her Aunt Alberta can tell Stella what has happened.
But not everything Aunt Alberta tells her turns out to be true and Stella quickly discovers she's in for the fight of her life against her very own awful Auntie!
Awful Auntie was published in September 2014 and went to No.1 in the children's' book chart for seven weeks.
The paperback was published in February 2016 and became the best-selling children's paperback of the year.
Combined sales of the hardback and paperback have now reached over a million copies.
It has helped to make Walliams one of the country's best-selling children's authors.
His books have been translated into more than 50 languages, bringing worldwide sales to more than 17 million.
Three of his books have won National Children's Book Awards.
The Crewe Lyceum shows will run from Wednesday to Sunday, August 22-26.
They will be 7pm starts on August 22, 23, 24 and 25 and 2pm afternoon shows on August 23, 24 and 25.
On Sunday August 26, shows will be 11am and 3pm.
Tickets range from £10.50 to £22.50.
For full details visit www.crewelyceumtheatre.co.uk or call the Box Office on 01270 368 242.