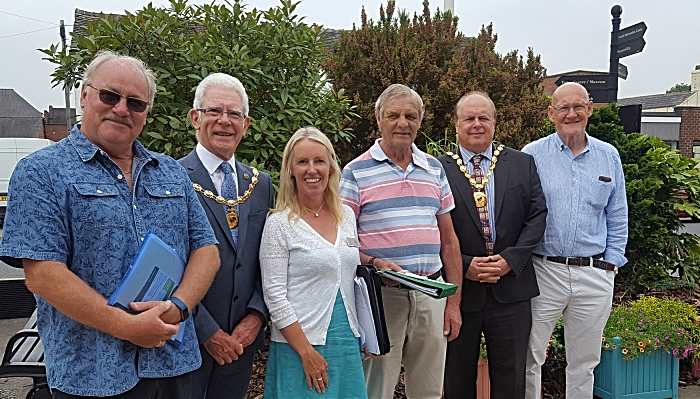 Volunteers helped Nantwich look bloomin' marvellous when judges from the annual Britain in Bloom competition visited the town.
Dozens of people helped ensure flowerbeds, planters and hanging baskets were brimming with colour for the visit last week.
For the past six years, Nantwich has won Gold in the North West's Best Town category and fingers are crossed for the same recognition this year.
Volunteers from Nantwich In Bloom, Nantwich Litter Group and Nantwich Civic Society worked alongside ANSA Street Cleansing and Ground Maintenance and Nantwich Town Council.
For the judges' visit, they promoted horticultural excellence, environmental responsibility and made the town centre look top notch.
Judges praised the efforts and visited other areas such as the Community Orchard and outdoor classroom at Coed Wen.
They also looked at the John Gerard Herb Bed at Nantwich Museum, a new bed and information point outside Nantwich Civic Hall, and finished at the new Poppy Bed next to the library.
Mayor of Nantwich Cllr David Marren and Deputy Mayor Cllr Arthur Moran were both on hand to meet the judges.
Cllr Marren said: "The Town Council attaches a great deal of importance to how the town looks because it is one of the main things that visitors say attracts them to Nantwich.
"We invest quite a lot in summer and winter bedding, hanging baskets and daily watering.
"Nantwich in Bloom and the Nantwich Litter Group are fantastic partners and we couldn't manage without them.
"On behalf of the Town Council I say thank you to both volunteer groups and fingers crossed we'll do it again."
(Pic: Mayor of Nantwich Cllr David Marren, Deputy Mayor Cllr Arthur Moran, North West In Bloom Judges, and Nantwich In Bloom's Tony Percival and Mark Betteley)