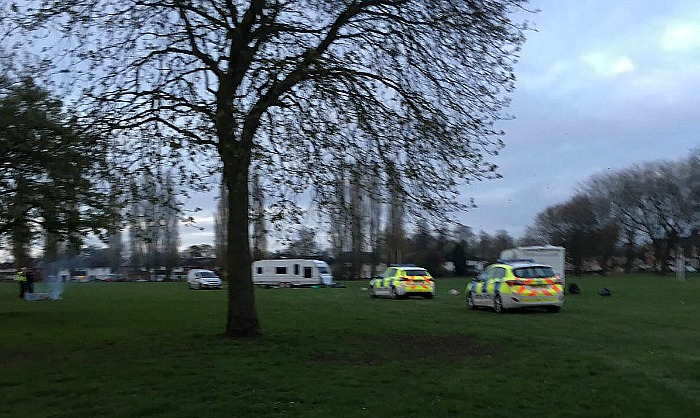 Councillors are calling for more to be done in the battle against illegal gypsy and traveller sites across Nantwich and Crewe, writes Stephen Topping.
Members of Cheshire East Council's strategic planning board gave the thumbs up for consultation to begin on the next phase of the local plan – which gives more detail on where more than 36,000 homes will be built by 2030.
The first draft of site allocations and development policies document also earmarks land east of Railway Cottages in Nantwich for six permanent traveller pitches.
And land at Coppenhall Moss, in Crewe, is also earmarked for seven permanent pitches.
But councillors from across the political divide are warning those sites will not resolve the issue of travellers and gypsies setting up illegal encampments in the borough.
Barony Park in Nantwich as seen a number of illegal encampments this year.
Cllr Brian Roberts, Labour member for Crewe West, said: "I think we've all experienced this summer, certainly in the Crewe and Nantwich area, parts of our parks being taken over by considerable-sized groups of caravans.
"Not just once, but multiple times – which have taken a long time to move on and clear up.
"We've got three permanent sites identified but I don't see any sites identified for transit.
"If the transit sites were there that would hopefully stop some of the occupation of our parks."
Cllr Peter Groves, Conservative member for Nantwich South and Stapeley, added: "Crewe and Nantwich has had a number of visitors so far this year.
"We have the [Nantwich] Food Festival coming up on Friday, Saturday and Sunday and I know that there is a concern in the town in case we get more visitors.
"Do we have any idea when Cledford is going to be up and running because I know when we are dealing with residents' concerns we keep talking about having a transit site and a solution?
"The problem is, they keep saying to us 'that's all very well and good, but when is that going to be available and useable'?"
In boroughs where there is a transit site, police have greater powers to close down illegal traveller encampments and move caravans to the designated transit site.
CEC had planning permission for a transit site in Cledford Lane, Middlewich, but this expired in May.
However, Adrian Fisher, head of planning strategy, said the site is still recognised in the local plan as a future transit site.
Although planning permission has now expired, it was held at the time the site allocations document is dated back to – which Mr Fisher explained is "the baseline on which we're working from".
He added: "I quite understand the concern.
"There are a number of cases where there is a distinction between setting a planning policy and then there are perfectly legitimate questions about implementation, council commitment and so on.
"I suppose it is just taking things in turn, but for the purpose of the planning documents we are setting out today, that is on the basis that there is an identified transit site that has planning permission."