Regeneration plans for Crewe town centre have taken a step forward after Empire Cinemas agreed terms for a new state-of-the-art eight-screen multiplex.
The 800-seat cinema will be centre-piece of the Royal Arcade scheme, shown in these newly released artist drawings.
Peveril Securities and development managers Cordwell Property Group have been working on the scheme since being selected as Cheshire East Council's preferred development partners last year.
Justin Ribbons, of Empire Cinemas, said: "We are delighted to announce our plans for a new cinema in Crewe.
"Our main screen will feature a hi-tech 'impact' screen showing the latest blockbuster movie to 230 customers seated in luxury seats, including some in a new sofa format.
"Our 17-seater 'D Box' will be one of the first in the UK where the moviegoers' reclining seats react to the action on screen.
"We are the leading independently-owned cinema chain in the UK, with 14 locations.
"We share the ambitious plans of the council and the developer for the regeneration of Crewe town centre and believe that our cinema can play a big part in reviving the night-time economy of Crewe and make it an exciting place for families to spend their time.
"We are also committed to working with local businesses and organisations to help make Empire the heart of the local community."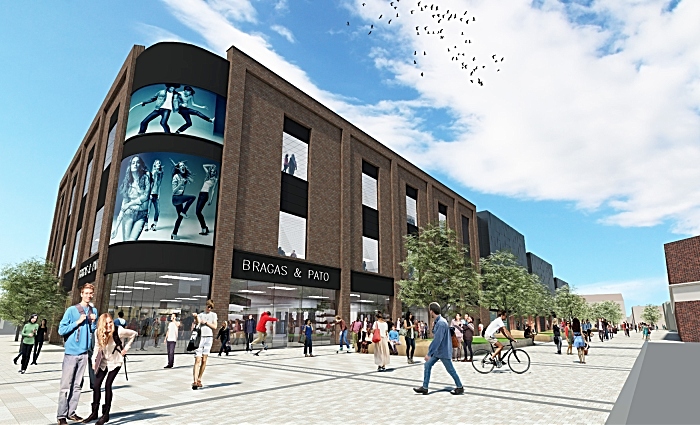 Cordwell Property Group has confirmed it is in advanced talks with other occupiers in the Royal Arcade scheme.
Cordwell spokesman William Warrack said: "We have had strong interest from another leisure operator and expect to be able to make a further announcement in the coming weeks.
"We're also in discussion with a number of restaurant operators, who are keen to have a presence in Crewe, reflecting the growth of the town and current lack of restaurants in the locality."
Cllr Ainsley Arnold, Cheshire East Council's cabinet member for planning, housing and regeneration, said: "This is great news for Crewe and only the start of delivering the council's ambitious programme to regenerate the town centre which, along with HS2, will truly transform Crewe as a place to live, work and visit.
"The council will continue working hard with the developer to deliver the full investment programme, with more exciting news to be announced soon.
"Alongside investment from Cheshire and Warrington Local Enterprise Partnership, the council will be supporting the costs of the public elements of the scheme, including the new bus station, multi-storey car park and public realm."
Mr Warrack added: "We have been working closely with the council and Empire to create some exciting designs, which are unique to Crewe.
"We'll also be working with other stakeholders, such as Cheshire College SW, to ensure that, during the construction of the scheme, we involve local people and give them opportunities to learn and take part in the work.
"We've just launched a website for the project, which provides more information for local residents and businesses.
"This will be updated as our plans progress and we welcome feedback and suggestions as to how we can work in partnership with the local community.
"We are expecting to finalise plans over the coming months and commence works on site late summer 2019.
"Whilst this is later than originally planned, we are confident that we can move forward at pace and deliver a completed scheme by summer 2021."
The website www.royalarcadecrewe.co.uk is due to go live tomorrow (September 25) to update residents on the scheme.
(Pics: Artist impressions of the proposed cinema and Royal Arcade scheme)