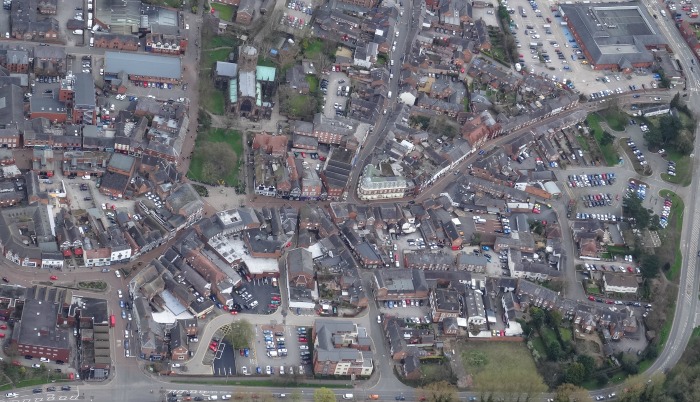 Nantwich residents are being urged to lodge their views as part of the Cheshire East Local Plan consultation, which highlights areas of the town centre that could be developed in future.
The consultation follows the adoption of the Local Plan Strategy in 2017.
The authority is now preparing an additional Site Allocations and Development Policies Document (SADPD) which people can express views on until October 22.
And in the draft is an updated allocation of potential development in Nantwich town centre – stretching from Snow Hill over part of Mill Island, First Wood Street and the car parks in Bowers Row.
But it does not include the current 1960s development on Swinemarket, which many have criticised as being an eyesore on the historic market town.
A town council spokesman said: "This is the most significant change in the proposal for Nantwich town centre from previous consultation documents.
"The boundary of the allocation has been extended to include additional land up to the swimming baths, across the river in First Wood Street and part of Mill Island.
"The existing development in Swinemarket has however been excluded from the allocation."
Outside the settlement boundary there is a "presumption against development unless there is special justification".
The green gap to the east of the town protects the area of open countryside between Nantwich and Willaston and Wistaston.
Once adopted, the SADPD will be used alongside the Local Plan Strategy and neighbourhood plans to help determine planning applications.
Cheshire East is also consulting on its Sustainability Appraisal and Habitats Regulations Assessment which looks at impact of development on nature conservation sites, and is also carrying out a "call for sites" that may be suitable for Gypsy, Traveller and Travelling Showpeople accommodation.
Consultation documents and comments forms are available on the website at www.cheshireeast.gov.uk/localplan and in Cheshire East customer service centres and libraries.
In the supporting SADPD 'maps' pdf, pages 31-34 outline the revised allocation for Nantwich.
Responses should be returned to Cheshire East using the consultation portal on the website, by email to [email protected] or by post to Spatial Planning (Westfields), C/O Municipal Buildings, Earle Street, Crewe CW1 2BJ by no later than Monday October 22.
Call 01270 685893, email [email protected], or post to Spatial Planning Team (Westfields), C/O Municipal Buildings, Earle Street, Crewe CW1 2BJ
(Pic courtesy of Jonathan White)