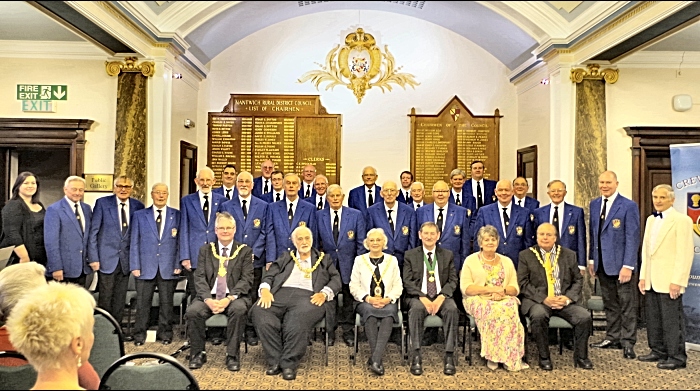 Crewe Male Voice Choir has celebrated its 60th anniversary with a reception for friends, supporters and former members of the choir.
Guests included Mayor of Nantwich Cllr David Marren and Mayoress Belinda Marren and Mayor of Cheshire East Cllr Lesley Smetham and consort David Smetham.
Cllr Smetham presented an engraved tankard to Brian Ray, a member of the choir ever since it started 60 years ago, and a diamond-shaped commemorative plaque to other current members.
The choir entertained guests to an evening of music with songs from the earlier and current repertoires.
Denise Leigh (soprano) and Stefan Andrusyschyn (accordion), who have performed with the choir over many years, added their own vocal and instrumental music.
Denise joined the choir for the final song "You'll Never Walk Alone".
Mayor of Nantwich Cllr Marren said: "The choir sang a wonderful repertoire that had my leg tapping and I so much had this urge to join in.
"Denise Leigh has one of the finest voices I've ever heard and was very amusing and Stefan certainly showed his ability with the accordion; they were quite a double act.
"As a Liverpool fan, from boyhood, the final song was irresistible and I knew all of the words, and everyone joined in with that.
"It was a great atmosphere and I had a very enjoyable evening and I know the other Mayor's also enjoyed the event. I hope the choir has another 60 years before it."
The Male Voice Choir is aiming to raise £3,000 for St Luke's (Cheshire) Hospice, principally at the 60th Anniversary Gala Concert at the Lyceum Theatre on Monday October 15.
Choir musical director Stephen Davies said: "If we can fill every seat in the Lyceum, we can easily achieve this target in support of our invaluable local Hospice, at the same time as enjoying a very varied programme of many different types of music.
"The choir will be joined by Crewe Brass and by guest soloists and comperes, Jane Johnson (soprano) and Kevin Whitfield (bass), with assistance from the audience, especially for the medley of First World War songs and the inevitable Rule Britannia to round off the programme.
"We're also going to be featuring the winner of Sandbach Concert Series Young Musician for 2018, Ben Jackson on saxophone because this year's competition was sponsored by the choir."
Concert goers will also have entertainment by the South Cheshire George Formby Ukulele Society at the concert.