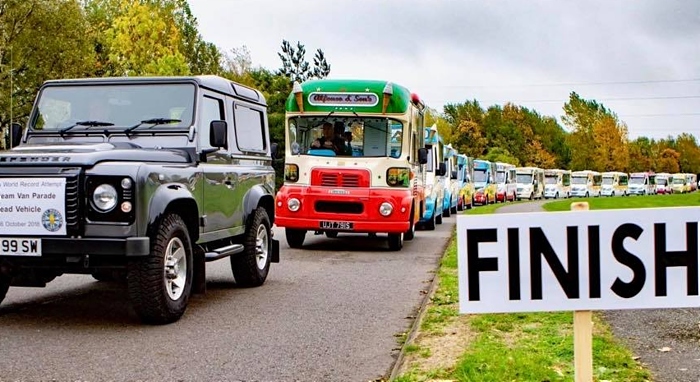 South Cheshire firm Whitby Morrison whipped its ice cream vans into shape – by breaking a Guinness World Record!
And there were no (traffic) cones in sight as hundreds of the colourful vehicles lined up at Wychwood Park to create the longest ever convoy of ice cream vans.
The event was organised by Whitby Morrison with a team from Guinness World Records won hand to make sure all was done correctly.
Money raised by the event will be donated to Great Ormond Street Children's Hospital in London and St Luke's Hospice Cheshire.
Wybunbury Cllr Janet Clowes went along to witness the world record bid!
"It was a wonderful 'congregation of vans' and drivers and of course the attempt was brilliantly successful!" she said.
"I had the chance to speak with Ed Whitby who explained that the idea had emerged as an extension of the firm's regular annual get together at Nantwich football Club.
"He admitted it had been really hard to get it organised – and so hopes that the record won't be challenged any time soon!
"For those that stayed until the vans returned back to the car park, there was the opportunity to celebrate the success with a free ice cream!"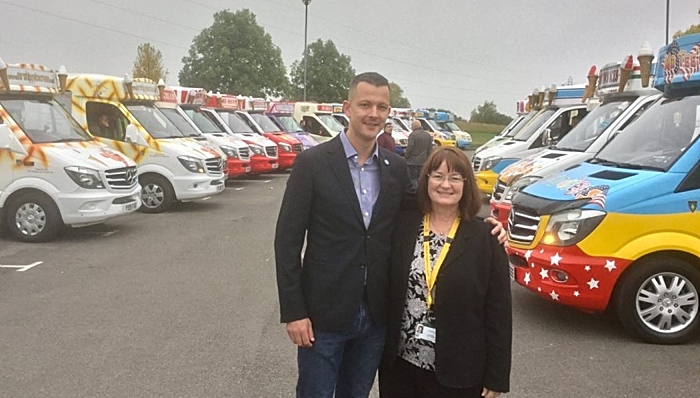 Ed Whitby, boss of the company based on Crewe Gates industrial estate, said: "It was fantastic to see – such a proud sight at Wychwood Park.
"Congratulations and thank you to everyone who took the time and effort to support the world record attempt.
"This event is about YOU. Thank you so very much to each and every one of you – we really could not have asked for any more. Time to celebrate!"
The business was founded by Bryan Whitby in 1962 and is now recognised as the world's leading manufacturer of ice cream vehicles.
Whitby Morrison produce bespoke ice cream vans and associated vehicles are seen all over the globe.
(images courtesy of Cllr Clowes and Ed Whitby)