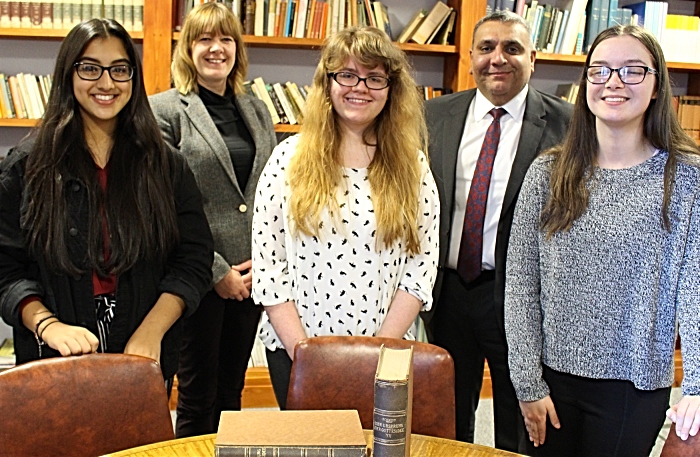 Students at Cheshire College – South & West have been competing with scholars across the UK to earn prestigious awards during a residential programme at Pembroke College, the University of Oxford.
Second Year A Level student Nariah Majid was recognised by the University of Oxford as a Pembroke Scholar and will take part in an additional event linked to the Pembroke North Programme.
It aims to raise aspirations for prestigious universities by taking part in a sustained and intellectually challenging programme.
Nairah, 17, former pupil at Shavington Academy, said: "The entire process has been inspiring and has encouraged me to consider applying to Oxbridge."
A Level student Emma Wood, 17, from Middlewich and former pupil at Middlewich High School, has been awarded a prize for her written work submitted to the Tyler Prize Competition at Pembroke College.
The Tyler Prize aims to support and inspire the next generation of undergraduate students as they consider their university choices.
Emma won a prize in the Humanities category.
She said: "I was thrilled and surprised to become runner up in the humanities category for my essay.
"I wasn't expecting it and I am glad the college introduced me to it and encouraged me reach my full potential."
A Level student Emily Lord was awarded a Pembroke Scholars prize.
Emily was nominated by Oxford academics based on her written work and dedication throughout the week.
Emily, 17, also a former student a Middlewich High School, said: "I was ecstatic when I found out. The college has given me endless opportunities and encouraged me from the start."
Fiona Burgess, Futures Programme Coordinator at Cheshire College – South & West, said: "We are very proud and delighted to announce the recent success of our students attaining awards from The University of Oxford, Pembroke College.
"This is due to the hard work and commitment that the students have shown. They are exemplary role models for Cheshire College – South & West."
for more information on studying at Cheshire College – South & West, call 01270 654 654 (Crewe Campus) / 01244 656 555 (Ellesmere Port and Chester Campuses) or visit www.ccsw.ac.uk
(Pic: Left – Right: Nariah Majid, Fiona Burgess, Emily Lord, Dhesi (Principal and Chief Executive Officer), Emma Wood)