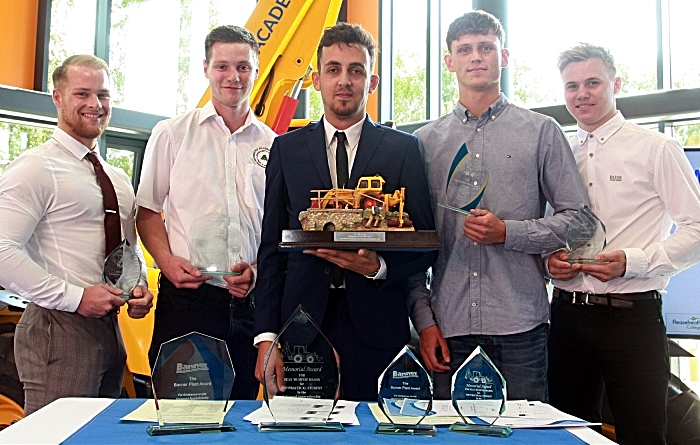 The next generation of highly skilled construction plant maintenance apprentices received final awards at a presentation at Reaseheath College in Nantwich.
Seventy-five trainee engineers from across the country were joined by employers to celebrate a 100% success rate on the completion of their Level 3 Advanced Apprenticeship in Construction Plant Maintenance.
The apprentices work as construction plant technicians for leading companies including A-Plant, Scot JCB, Greenshields JCB, Watlings JCB, Gunn JCB, TC Harrison JCB, Banner Plant, The GAP Group, Clee Hill Plant, Arnold Plant Hire, A P Webb Plant Hire, Ruttle Plant and D Morgan.
The apprentices were congratulated by Engineering Apprenticeships Manager Simon Keen who described them as a highly talented group, destined to be the industry's future workshop managers and business owners who in time would employ their own apprentices.
He also paid tribute to the apprentices' employers who had continued to fully support the training programme, often by supplying cutting edge machinery and equipment.
Special awards:
• Apprentice of the Year sponsored by Scot JCB: Harry Stoddart (Scot JCB, Carlisle)
• Top Academic Apprentice sponsored by CITB: Tom Farmer (A-Plant, Bodmin)
• Top A-Plant Apprentice: Tyler Lloyd (A-Plant, Newcastle)
• Top JCB Franchise Apprentice: Phil Sutcliff (Greenshields JCB, Farnham)
• Best Practical Student 'Dean "Dumper" Mason Award': Daniel Lewis (Arnold Plant Hire, Stockport)
• Banner Plant Award for Endeavour: Louis Dorricott (JCB, Leighton Buzzard)
• The Apprentices' Apprentice (student vote) sponsored by Simon Keen: Joe Asquith (Towny Branford, Keighley)
Find out more www.reaseheath.ac.uk/further-education/courses/agricultural-engineering