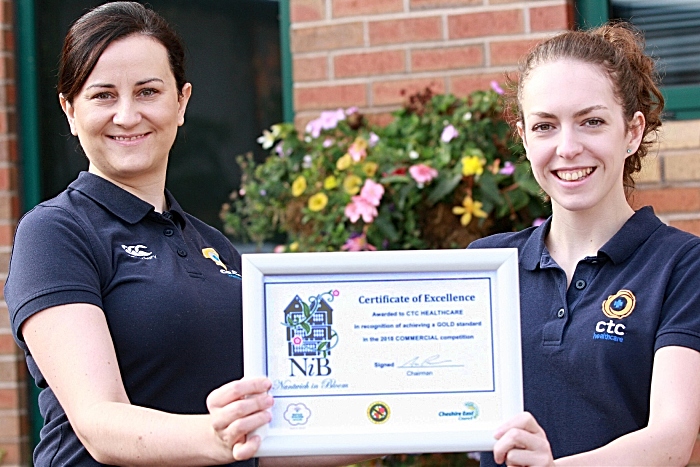 A health firm has used flower power to win gold and add a splash of colour to business parks in Crewe and Nantwich.
Physiotherapists at ctchealthcare festooned the company's clinics on Beam Heath in Nantwich and Crewe Business Park with an array of stunning seasonal flowers.
Now the team is celebrating after scooping a second gold award for top commercial premises in the Nantwich in Bloom local contest.
Business administration manager Helen Lowe said: "We're all about health and wellbeing and flowers lift the spirits and create a sense of calm.
"We're based on business parks out of town and displays also help to soften the corporate backdrop.
"Patients often remark on how lovely the displays look and how well they are doing several weeks into autumn.
"After a long, hot summer and difficult growing season we are proud to be honoured in Nantwich in Bloom for a second year.
"The organisation and its volunteers do a wonderful job keeping Nantwich looking lovely for visitors and townspeople alike."
The tribute comes as Nantwich awaits its fate in the regional heats of the Britain in Bloom contest.
Nantwich has made the small town category its own over the years and judges are expected to make their announcement soon.
Tony Percival, Nantwich in Bloom chairman, said: "We've won gold for small town five times in a row and on several occasions before that.
"It's now running into double figures and judges seemed very impressed when they visited in the summer. We remain quietly confident.
"As they rightly said, winning is one thing, but maintaining gold standard is another and thanks to companies like ctchealthcare, Nantwich does just that.
"Pubs, shops, offices and community buildings do a marvellous job in keeping Nantwich looking its floral best and we applaud their efforts."
For more information on becoming a Nantwich in Bloom volunteer visit its page at www.nantwichtowncouncil.gov.uk
For more information on physiotherapy and wellbeing treatments in Crewe and Nantwich visit www.ctchealthcare.co.uk