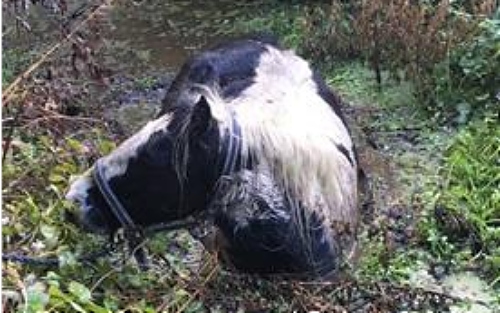 A horse was rescued in a two-hour operation by fire crews to pull it from a water-filled ditch in Hatherton near Nantwich.
The incident happened at a field on Bridgemere Lane at around 11am yesterday (November 1).
Fire crews from Crewe and from Bollington – as well as an animal rescue unit from Croxteth in Merseyside – were called to help Nugget the horse which was in distress.
The crews found the horse was submerged in around three foot of water.
They used specialist safety equipment to access the horse and a harness to keep its head above water as they waited for a vet and an animal rescue unit to arrive.
Cheshire firefighters removed a fence to allow them to pull the horse from the ditch with help from the team from Croxteth.
Nugget was pulled clear of the ditch at around 1.10pm and handed over to the care of its owner and the vet.
Firefighters were in attendance for around two-and-a-half hours.
(pic courtesy of Cheshire Fire and Rescue)