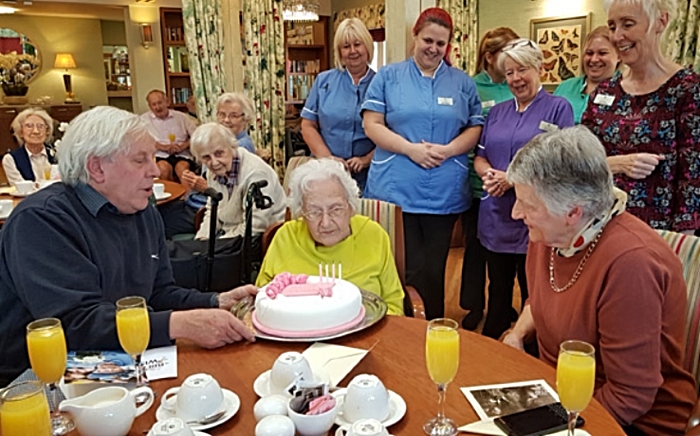 Family, friends and neighbours joined Nantwich resident Lena Arger to celebrate her 105th birthday.
Lena, one of the town's oldest residents, moved to Richmond Nantwich retirement village 13 years ago when she bought an apartment at the spritely age of 92!
During her incredible life, Lena has lived through both World Wars and seen 26 Prime Ministers taking office.
Lena received her fifth birthday card from the Queen – who was crowned in 1953 when Lena was 40 – and has had one every year since she was 100.
"Isn't this wonderful – another card from the Queen!" she said.
Her birthday party included a special cake, music and a choir comprising residents, volunteers and friends to sing Happy Birthday.
It was organised by the village with head chef Wai Ng making and decorating the cake.
Hilary Minshull, care home manager at the retirement village, said: "Lena is amazing!
"She can be seen walking around every day and joining her friends for lunch.
"She still enjoys music and joining fellow residents for meals where she always says 'Thank you my plum' as she is served.
"We have thoroughly enjoyed celebrating this very special birthday with her."