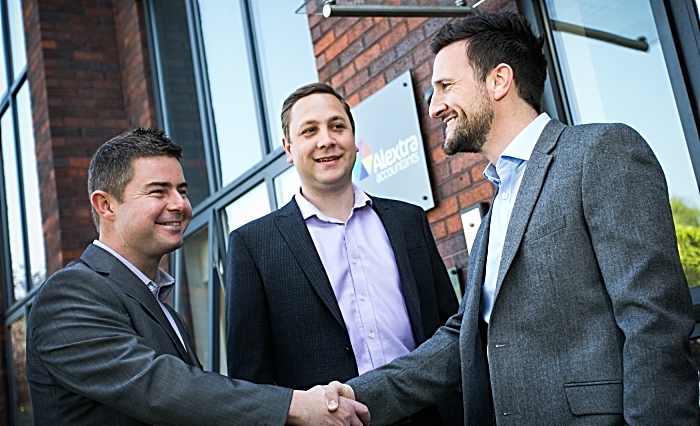 Staff at accountants Alextra Group are celebrating a recent expansion – by being shortlisted in the South Cheshire Chamber of Commerce awards.
The firm has just launched a Wealth Management division to compliment its growing accountancy practice.
Now they have been shortlisted in the Large Business of the Year category at the Chamber awards to be held at Crewe Hall on Friday November 23.
Three of the company's four directors live in Nantwich and are active sponsors of local sports teams and community events, including Nantwich Cricket Club and Crewe & Nantwich Athletics Club.
And now they are the latest to throw their support as a commercial partner behind Nantwich Town FC.
Tim Crighton, commercial director of Nantwich Town, said: "We are delighted to welcome the Alextra Group as a new commercial partner of Nantwich Town.
"They often attend both games but also our Sports Dinners, so it is nice they have now taken a further step in our relationship."
Keith Knight, founder and director of Alextra Group, said: "It's been a pretty busy few months!
"We are delighted to have been shortlisted for the Business of the Year and are proud of the whole team.
"They are the people working closely with our clients and making sure business owners have full transparency and understanding of their accounts.
"We're pleased to have launched our new website too and we're determined to "keep business local" with our website suppliers, rather than use a large London or Manchester based agency."
The South Cheshire Chamber of Commerce Business Awards had a record number of entries.
Competing with Alextra Group for Business of the Year (25 or more employees) are Alpha Omega, Crewe Hall, Rookery Hall and Watts Commercial Finance.
Contenders for Business of the Year (under 25 employees) are Brampton Recruitment, Hydraulics Online, PA Today, Park View Business Centre and Rhino Safety.
Start Up Business category has Excel Training Studio, Flutterby Beauty, Michael Andrew Financial Services Ltd, Right at Home and Recoup Training as finalists.
Young Leader of the Future are employees from AO Logistics, CE Back Office, Eze Talk, OCJ Marketing and Watts Commercial Finance.
Finalists in the Excellence in Customer Service category are Crewe Hall, Dogs Trust, Foundations and Right at Home.
Contenders for Contribution to the Community are AO Logistics, Insight to Impact and New Business Network.
Employer of the Year are AO Logistics, CE Back Office and Everybody Sport.
Competing for title International Trader of the Year are Direct Access Consultants Ltd and Hydraulics Online.
Apprentice of the Year has young hopefuls from AO Logistics, Crewe & Nantwich Gymnastics and Everybody Sport competing.
Ambassador of the Year has Chrysalis Rail, Hydraulics Online and Information Catalyst as finalists.
Chamber Chief Executive Paul Colman said: "Every year the calibre of entries is extremely high and this year has been no exception.
"The awards always create a buzz of excitement around the local business community and this year we have a record 38 finalists hoping to hear their names announced.
"Win or lose, all they can be proud of the contribution they make to South Cheshire.
"We can look forward to another memorable night at Crewe Hall."