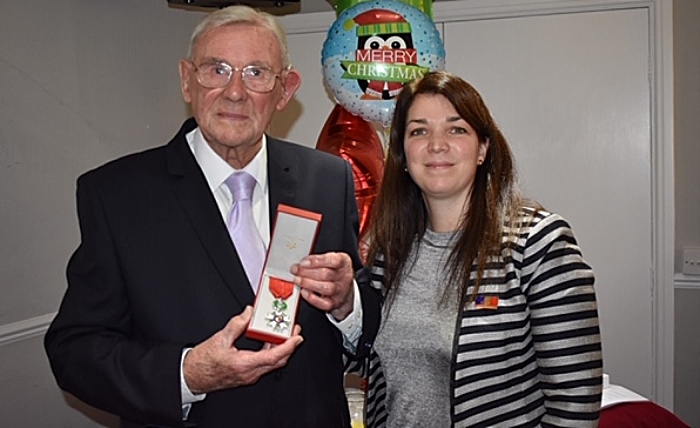 A Nantwich war veteran was given a special 95th birthday surprise – by being awarded the Legion d'honneur by France!
Ronald Wilson was presented with France's highest honour for people involved in the liberation of France from the Nazis in the Second World War.
The amazing honour, and rank of "Chevalier" (Knight), was presented to Ronald at his birthday party at Nantwich Cricket Club, by Madame Aude Auclair, the French Honorary Consul for the North West (pictured).
She told Ronald that "without your sacrifices, France and indeed Europe would not be what they are today".
Ronald, who moved to Nantwich in 2007 shortly after the death of his wife Irene, joined the army in November 1942 and after initial training was based in South Wales building a Tank Range.
By May 1943, his regiment of Royal Engineers were building roads and airfields and eventually many "invasion" camps in the south of England.
Shortly after D-Day, he was landed in France and his unit began rebuilding bridges and dismantling and reassembling bailey bridges to ensure the army could progress through France, Holland and Belgium.
In September 1945, he was posted to India where he served until July 1947 when he was demobbed.
The father-of-two currently lives in Nantwich with his daughter Diane and her husband Alistair.
They were among more than 80 family and friends at the cricket club yesterday (December 22) to celebrate his birthday and the Legion D'Honneur presentation.
Alistair said: "Planning for this occasion and the presentation has been going on all year, but he was only informed last Monday of the Legion D'Honneur!"
He previously lived on the Wirral where he had been a senior lecturer in electrical engineering before retiring in 1985.
As well as his children Diane and Brian, Ronald has five grandchildren Ian, Sarah and Neil (on Diane's side) and Claire and France's (on Brian's side).
He also has two great grand children, three-month-old Finley and one-year-old William.
Ronald remains active in many local Nantwich groups, including the Over 50s club, South Cheshire Orchestra, U3A table tennis and others.