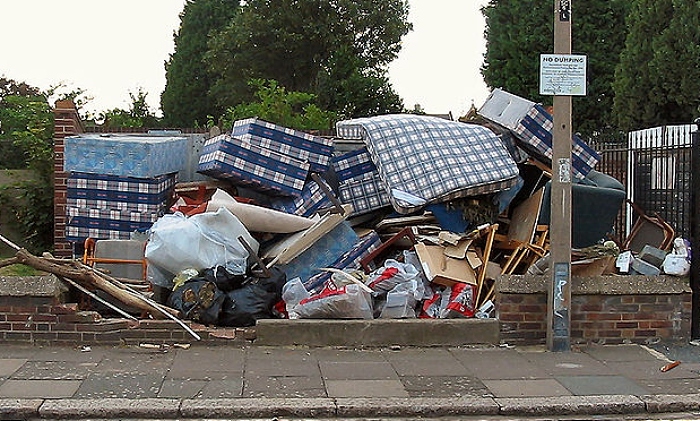 Cheshire East Council charges one of the highest amounts in the North West for bulky household waste collections, an investigation has shown.
The BBC Shared Data Unit report shows CEC charging an average of £13.30 per item – or £40 for 3 items – which makes it the fifth most costly authority of 39 in the North West.
Cheshire East also charges £80 for 4 to 6 items to be collected, according to the statistics.
Neighbouring Chester West and Chester is the fourth highest in the region, charging £15 per item, which can include things like mattresses, furniture, large-screen TVs and white goods like fridges and freezers.
Both are above the £7.50 average for the North West and £11 average for England when looking at the cost of a single item at first collection.
Only Stockport, Chorley and Lancaster charge more in the North West area.
Meanwhile, city authorities like Liverpool and Manchester continue to offer the service for free to all householders.
Local councils across the UK are facing increasing pressure on budgets, and the majority have introduced additional charges for bulky waste collections – a service many once provided free.
According to the BBC report, in 2017-18, there were nearly one million fly-tipping incidents in England.
Of those, more than half – 521,895 – of the items dumped were white goods or other household waste – a category that includes furniture.
The regulations say councils can charge for the collection of certain materials, including waste that does not fit into a household bin or waste which exceeds 25kg in weight.
A new government waste strategy was launched in December which includes consulting on plans for manufacturers to foot the cost of disposing of the goods they produce.
Councillor Glen Williams, deputy cabinet member for environment, said: "Cheshire East Council provides a bulky household waste collection service across the whole of the borough.
"The collections are carried out by our third sector charitable partner St Paul's Centre, based in Crewe, which also restores many items, such as electrical goods, which are suitable to be reused.
"These items are then passed on to those in need in the community, who have been referred to the charity by other services and organisations, for free or a minimal cost.
"By operating this collection service, St Paul's Centre is also able to provide training opportunities and supported employment to young people and adults, who may otherwise find it difficult to find a job.
"The council has worked closely with this charity for a number of years and acknowledges its significant contribution to Cheshire East's community through the careful management of bulky items and the training opportunities it provides.
"The charges for the bulky household waste collection service -£40 for up to three items or £80 for up to six items – cover the costs of providing the service and offset the 25% concession that is applied to residents on qualifying benefits. The charges have remained the same over the past three years.
"Residents who wish to dispose of their bulky household waste themselves can do so at one of our HWRCs for free.
"If they are using a van, 4×4, pickup or trailer, they will need to apply for a household waste permit, which can be done easily and quickly on our website, also for free."
A Local Government Association (LGA) spokesperson said: "Some councils were able to provide free garden and bulky waste services when they were first introduced but are now having to charge to reflect the growing cost of providing a collection service.
"Councils in England face an overall funding gap of £3.2 billion in 2019-20.
"Money from garden and bulky waste collection charges goes back into maintaining the service."
More information about the collection service and the items that can be collected can be found on the Cheshire East Council website by visiting: https://www.cheshireeast.gov.uk/waste_and_recycling/bulky-household-waste-collection.aspx
More information about digital waste permits can be found at www.cheshireeast.gov.uk/wastepermit