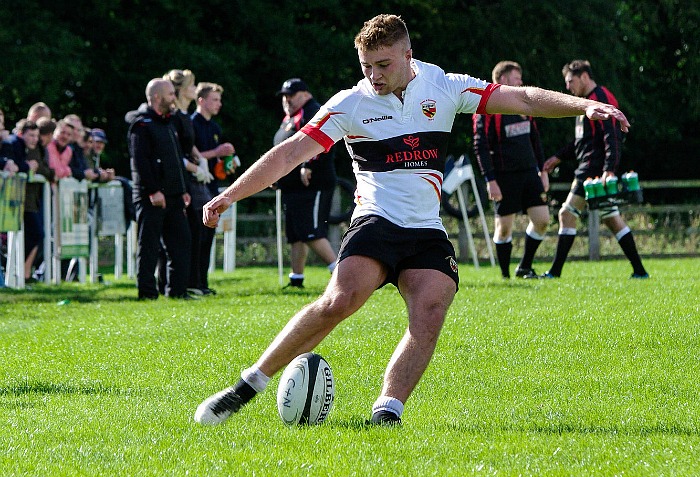 Crewe & Nantwich maintained their winning run with a 24-15 victory over second-placed Wolverhampton.
The home side started well and from the kick off back row Stewart O'Leary turned the visitors ball over to give the Crewe backs some early ball.
They moved well to put Wolverhampton under pressure and fly half Jim Creighton kicked an early penalty to give Crewe the lead.
A second penalty followed to make it 6-0.
Crewe's game plan was disrupted by an injury to centre and vice captain Josh McShane who took a boot to the head after a great cover tackle.
Thom Vanstone camne on at full back and Toby Ward moved up to centre.
Crewe kept up the pressure and were rewarded by another penalty from Creighton 9-0.
Wolverhampton then upped their game, forcing Crewe back and a series of drives from the forwards sucked the home defence in leaving space out wide for the away centre to score 9-5.
Crewe bounced back and a series of drives lead by hooker Eli Woodward and skipper Elliot Alston pushed them deep into the visitors 22.
Crewe seemed certain to score in the corner after more pressure but the final pass was intercepted, the Wolverhampton winger sprinting the length of the pitch for
an interception try converted by their fly half, to give the visitors a 9-12 lead at the break.
Crewe drew level early in the second half Creighton again doing the honours with the boot for 12-12.
But Wolverhampton responded soon after with a penalty of their own for 12-15.
The hosts were slowly getting on top and Wolverhampton were defending on the edge.
It led to a run of four penalties which were converted by Creighton to go into the final 12 minutes with a comfortable 9 point lead 24-15.
Crewe suffered another injury blow with loose head prop Chris Sproston suffering a bad break to his arm which will require pinning.
Steve Outhwaitte replaced him and McShane returned to the pitch.
Crewe kept the visitors pinned in their half for the remainder of the game to seal a hard fought victory which makes it seven wins in a row.
John Farr, Head Coach for Crewe & Nantwich, said: "First of all, credit must go to unseen heroes of the club.
"The pitch is in immaculate condition, thanks to Stuart Simmons, and being able to play on that surface contributes massively to our overall performance.
"Nicola Joyce, and the committee, ensure we have all we need to keep the players happy and able to focus on playing.
"2nd and 3rd teams are providing a great foundation for the club, on and off the field. These things can't be underestimated.
"As a result of all of this, on the day, in my opinion, we put in our best performance of the season against the strongest opposition we have faced.
"The boys gave it their all. Physicality paired with maturity allowed us to control the game and dominate territory and possession.
"Man of the match Jimmy Creighton managed the game beautifully as well as giving us a flawless kicking display.
"However, to single one player out doesn't do justice to a great team effort. Couldn't be prouder of my boys and my club."
In other scores, the 2nds lost out narrowly 27-24 away at Bowden 2nds, while the 3rds beat Newcastle (staffs) 2nds 19-17. Crewe Junior Colts beat West Park 29-10.