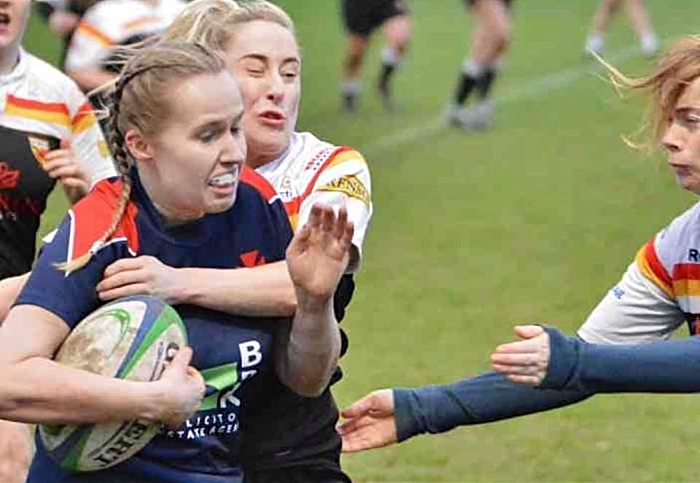 Crewe & Nantwich RUFC Ladies will be aiming to cement their top of the table position when they welcome Vagabonds to the Vagrants tomorrow (January 19).
The Ladies maintained their strong run with a 31-10 defeat of Carlisle Cougars last Sunday.
They built on their points margin at the top of the NC1 North West League with a win against a resurgent second-placed Carlisle away from home.
A first half blitz of point gave them an unassailable lead going into a very challenging second half, the home side rallying well to prevent the Crewe side scoring any points.
A superbly taken try from captain India Perris-Redding opened the scoring on five minutes after some excellent interplay between Nicole Bell, Vicky Irwin and Phoebe Jay, converted by Lucy Goose before Carlisle hit back with a well worked try of their own just minutes later.
Crewe's greater accuracy in the loose, with Laura Hollinshead and Nicola Joyce creating good forward momentum eventually told with Millie Jones scoring an excellent try after Ellie Brightwell and Phoebe Jay pierced the Carlisle defence.
Millie scored again moments later, in one of the tries of the season; a midfield break from Brightwell off a clever short pass from Irwin gave Phoebe Jay some space.
After beating two defenders she hit Jones at full tilt with a flat pass; she raced over to score a converted try.
Vicky Irwin scored shortly afterwards and India Perris-Redding added her second moments before half-time.
The second-half was a very different affair; a strong tail-wind made handling very challenging, and although Irwin an Nicole Bell threatened, Carlisle defended aggressively, forcing turnovers.
Crewe lost Phoebe Jay to a physio assessment and lost some of the control in the midfield, particularly in defence where the referee repeatedly blew for off-side.
Carlisle retained possession extremely effectively, and despite heroic Crewe defence through Mollie Latham, Lauren Vipond and Jodie Hind Carlisle eventually scored with 10 minutes to play.
In a decision that was baffling for both teams, the referee called time on the game, giving Crewe a vital bonus point win.
Both teams will feel frustrated by the decision, especially Carlisle who had found some fluency to break down the Crewe defence.
The win gives Crewe a commanding seven-point lead over rivals Broughton Park with a game in hand.
They welcome Vagabond Ladies tomorrow for a 1pm kick-off.
Coach Matt Baty said: "Normally we are slow starters then finish strongly; this game was the other way around! Credit needs to go to Carlisle for staying mentally in the game.
"I'm delighted with the skills on display during parts of the game, but we need to work on our accuracy in defence in the next fixture."
Captain India Perris-Redding said: "Carlisle are a very good side so I'm very happy with the result which, at this stage of the season is all that matters.
"We have to really look at how we handle our approach when a referee is not happy with the way we are playing as this could have cost us in a closer match."