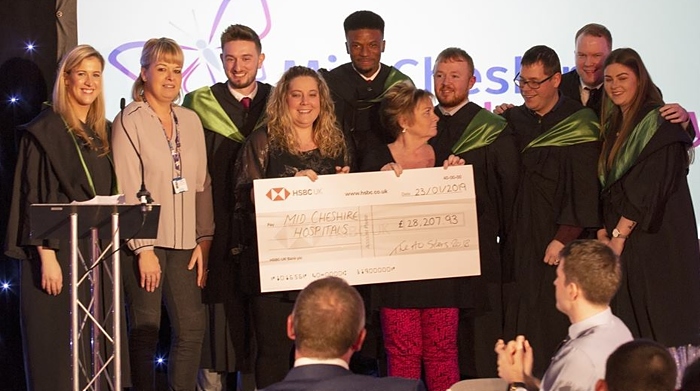 Staff at online retail giant AO have helped to raise more than £28,000 for Leighton Hospital's children and adolescent unit.
The AO team staged a range of fundraising activities with local schools including bucket collections at festivals, sponsored runs, bike rides and line dancing.
They put their colleagues in the stocks, held raffles and organised a Peaky Blinders themed night.
The amount they raised was also topped up by AO's Smile Foundation.
It meant they raised £28,207.93 which was presented to MCH Charity and staff from the ward at the recent Star Programme Graduation evening.
An AO Star programme spokesperson said: "We're really proud of raising this amount.
"It was amazing to see how much everyone at AO really cares about the local community and helping worthy causes.
"We know the money will make a big difference to the Children's Ward at Leighton Hospital."
Carole Salmon, Community Fundraiser for Mid Cheshire Hospitals Charity, added: "This is an incredible amount to have been raised.
"The drive and enthusiasm shown by the AO Star programme has been fantastic.
"We'd like to say a massive thank you to everyone at AO who have been involved with the fundraising.
"The money raised will have a huge impact on the unit and will help make our younger patient's experience the best it can be."
Any local groups and organisations wishing to support the MCH charity can contact Carole on 01270 273248 / [email protected]
(Pic: Carole Salmon holding cheque with Andrea Collins, Children and Adolescent Unit, Andy Langley Divisional Matron, with members of AO Star Programme)