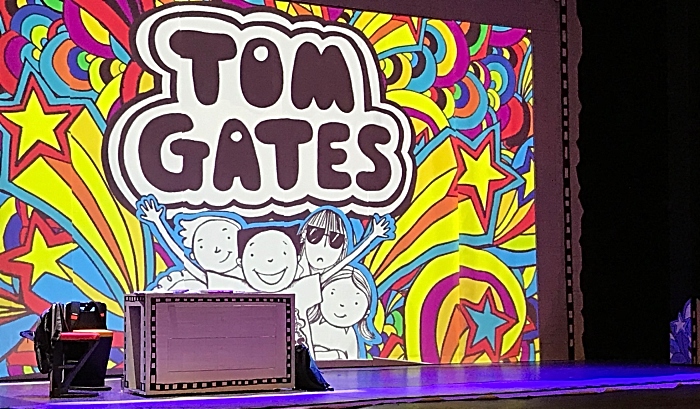 Dragging any teenage boy off his XBox to watch live theatre is hard work, these days.
But seemingly not when the World Premiere tour of Tom Gates: Live on Stage arrives in South Cheshire!
And he – my 13-year-old son – was not disappointed.
Three years have passed since he last read Liz Pichon's original and hilarious series of books – and this show brought all the memories back.
From the daring doodling, pranks on Tom's older sister Delia (which he particularly likes), the hapless homework capers, the daft songs from Dog Zombies, cravings for biscuits, and the growing old disgracefully "Fossils", this show has it all.
Written by the author and Neal Foster, it combines light-hearted humour and slapstick face-palm moments with brilliant visual trickery and illustrations on the backdrop.
This – and the impeccable timing – helps the show simply fly by as both children and adults get caught up and taken on the ride.
And what makes the books such a success is not cast aside and lost, as can often be the case when transferred to the stage.
These are cleverly retained and central to this show's success.
The cast is excellent.
Matthew Chase, as Tom, produces a breathless performance and is on stage almost every minute of the show which is more than one and half hours long.
He is ably supported by his school "friends" Derek (Matthew Gordon), Norman (Justin Davies), Amy (Amy Hargreaves), and Marcus Meldrew (Ashley Cousins).
Daniel Harkin is superb as he switches role from Tom's dad, to class teacher Mr Fullerman (not Fullerbum!), and headmaster Mr Keen.
Alice Redmond (Tom's mum) and Ebony Wong (biscuit factory boss) complete the perfectly-knitted cast.
Liz Pichon's books really do come to life in this production.
And it's left me digging in boxes in the garage to find his old Tom Gates books. If it means time off the XBox, I'm a happy dad.
There are still a few tickets available for shows between Thursday February 28 and Saturday March 2.
For details visit www.crewelyceum.co.uk