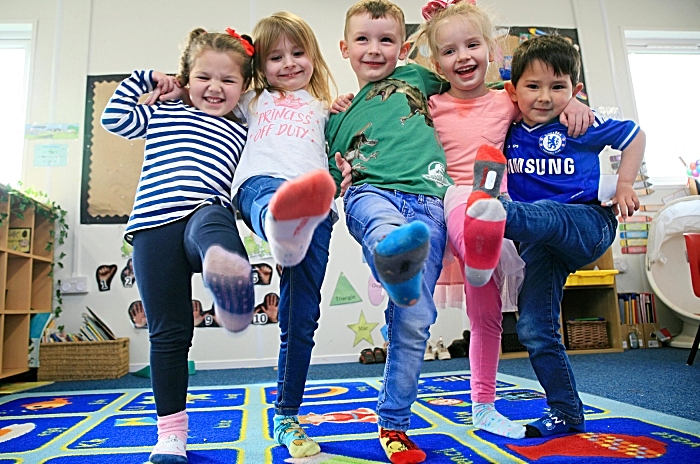 Silly socks were the order of the day when a Nantwich pre-school group staged a fundraiser for Down's Syndrome.
Children at Little Crickets marked World Down Syndrome Day by taking part in the 'Lots of Socks' campaign which raises money and awareness of the condition.
Funds are currently being totted up from the sale of gingerbread biscuits and will be handed over to Cheshire Down's Syndrome support group after the Easter break.
The pre-school, based at Highfields Academy, has offered local children education through fun since 1966 and is one of the oldest of its kind in South Cheshire.
Children work to the Early Years Foundation Stage curriculum to learn about the world around them and develop their literacy, numeracy, speech and language skills ahead of primary school.
Manager Helen Dobbie said: "Lots of focus has been made this year on making a fantastic, stimulating, bright and colourful learning environment for our children.
"In addition to our ever changing topics and activities we love having lots of fun supporting wonderful charities and being an active part of the community."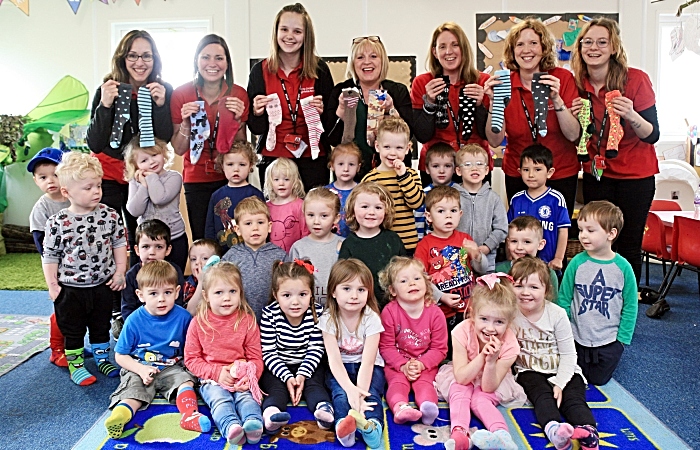 The pre-school backed Comic Relief with many red noses worn.
Children also took part in a Reindeer Dash for St Luke's Hospice and an event will take place for World Autism Day in April.
Helen added: "We've been part of the Nantwich community for over 50 years and take great pride in offering a nurturing environment where children make friends and prepare for their big journey ahead.
"Whilst offering funded or private fee paid sessions to two, three and four year-olds, we strive to maintain our 'home from home' environment and recognise the importance of a positive early years' experience for the whole family."
Little Crickets will also buzz with fun and games when school is out.
A holiday club is open to children 7.30am to 6pm.
Prospective parents can meet the Little Crickets team at Reaseheath Family Day on May 19, the Nantwich Show on July 31 and Nantwich Food Festival on Saturday, August 31 and Sunday September 1.
For more information visit www.littlecricketspreschool.org
To enquire about holiday club, open to all pre-school and primary schoolchildren, call 01270 371196.