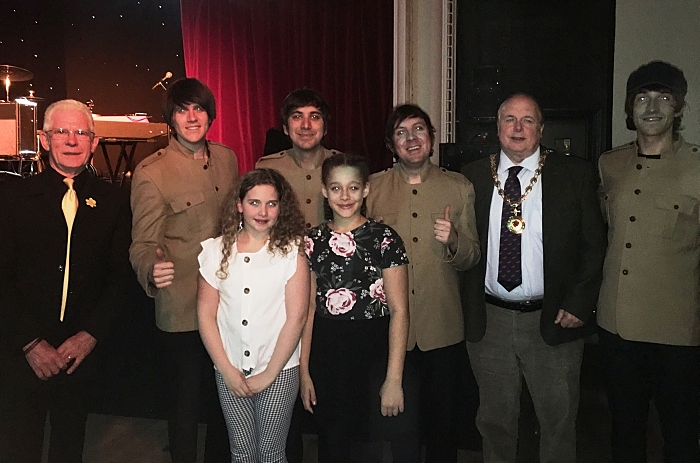 Hundreds of 60s music lovers packed Nantwich Civic Hall for an evening of "Meet with the Beatles"
The charity fundraiser was held in aid of Hope house, North West Ambulance First Responders and Nantwich Fire Cadets.
The evening saw South Cheshire singer Megan Lee open with a number of moody and sultry tracks.
Then came the main event, a tribute band whose alter ego is the Revolvers.
They filled the dance floor with their renditions of Penny Lane, Ob-La-Di Ob-La-Da, All you Need is Love and very more.
Mayor of Nantwich Cllr David Marren, who was accompanied by the Mayoress, Belinda Marren and eldest grandchild Madison Blackburn, said: "Everybody seemed to have a great night and there was lots of people here so I'm interpreting that as a very successful fund raiser in support of my good causes.
"The music was a great reminder of the 60s and early 70s and of course I had a lovely time on the dance floor with my wife and granddaughter.
"The event though was only possible though through the support and hard work of the Town Council's own staff and the support and effort of Deputy Mayor Councillor Moran, who compered the event and drove its organisation from behind the scenes, so I am especially grateful to them."
Meanwhile, a street collection held by the Mayor and supporters helped raise hundreds more pounds for his three causes Nantwich First Responders, Hope House and the Nantwich fire cadets.
He was joined by cadets and First Responders, who brought with them two response vehicles and defibrillator equipment to demonstrate to the public.
Cllr Marren added: "I want to thank everyone who has helped me to make the street collection a success, not only those that joined me on the stand but also the town council staff who helped set up and take down. A good team event in aid of good causes."