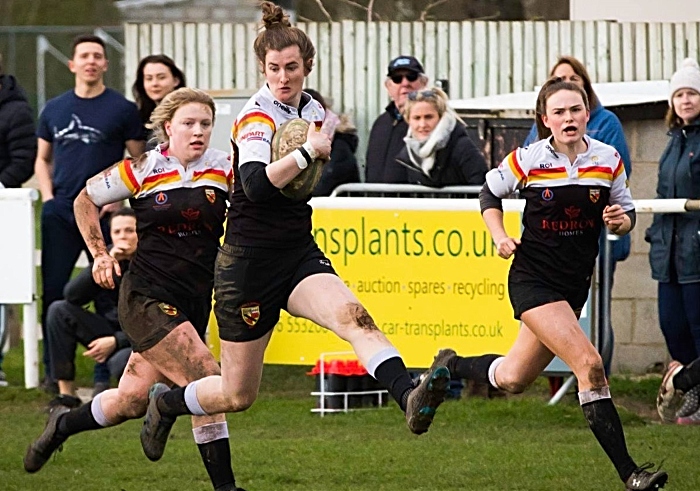 Crewe and Nantwich Ladies booked their place in Championship 2 League for next season with an emphatic 64-5 victory against Bishop Auckland Ladies in the National Challenge play-off at Skipton.
Bishop Auckland went into the game unbeaten this season in their parallel league in the North East, winning all 12 of their fixtures.
Crewe won 12 of their 14 games, losing just once so it was expected to be a very competitive fixture with a place in the league above at stake.
Although Bishop Auckland started strongly with excellent ball retention and power through the tight five, ultimately they were unable to live with Crewe's speed and agility.
The game was marred by a serious injury to Chloe Allison, the Bishop Auckland centre, who broke her leg in a tackle and the long stoppage and subsequent pitch change stalled Bishop Auckland's progress.
Within minutes of the restart, Vicky Irwin (pictured) crossed for the first of her four tries in the game, breaking the line from midfield after a strong run from Laura Hollinshead, scoring under the posts, converted by Nikki Laurence.
Mary Shepperson very nearly scored a long-range try of her own from the re-start, offloading brilliantly to the supporting Phoebe Jay, returning to action after a long injury lay-off.
Although Bishop Auckland competed well, particularly in the set piece, they were unable to handle the combinations of pace and power.
India Perris-Redding scored a superb try on the back of superb handling through Katie Heirene, Christine Lawson and Lauren Vipond.
India would go on to score a hat-trick with two more tries in the second half.
Mary Shepperson and Irwin added a try a-piece before half-time to take the score to 40-0 with a shell-shocked Bishop Auckland struggling to stay in the game.
To the opposition's credit, they began the second half brightly, scoring a well worked try and very nearly adding a second soon afterwards through a series of pick and drives, varying the angles of attack effectively.
Crewe have routinely struggled to maintain their intensity in the third quarter of the match.
But despite conceding a try and both teams reduced to 14 players after yellow cards to Kerry-Ann Dynan and the Bishop Auckland flanker, tries from India Perris-Redding and Mollie Latham quickly killed off any comeback.
India added her third try after Latham turned over a promising Bishop Auckland attack to finish the game, Crewe securing their second promotion in four seasons to cap off an incredible league season.
Captain India Perris-Redding said: "I'm so proud of the whole squad.
"We have played some fantastic rugby all season, and while we had every reason to feel confident going into the game, there is still doubt at the back of your mind, and after coming second for two consecutive seasons, we have been really focused on being as good as we can be.
"The performance we put in was intense and clinical which demonstrated that we are definitely ready to compete at a higher level next season."
Coach Paul Davis said: "It was an emotional day for all of us; we've all worked really hard this season so to win with such a big score is hugely satisfying.
"The squad have been incredible to work with this season and we definitely deserve the promotion.
"We're all chomping at the bit to test ourselves at a higher level in September!"
Crewe and Nantwich Ladies finish their season in the Intermediate Plate Final on April 14 v Plymouth Albion Ladies at Derby RUFC.